Hunza is the topmost tourist destination for Pakistanis as well as foreign travelers. The mesmerizing and breathtaking beauty of Hunza, attracts people from all over the world. It is blessed with one of the most stunning mountain ranges, lakes, plains, and forests. Whosoever comes to Pakistan and is fond of tourism, he must visit Hunza to experience the relaxing and calming scenic view of Attabad Lake that emerged as a result of the 2008 earthquake.
Hunza is the most developed tourist destination in Pakistan. However, it still required proper planning and complete arrangement to face all the obstacles, especially if you decide to visit along or with friends. Hunza valley is located between beautiful mountains and at an altitude of around 2500 meters. It is located along the Hunza River in the Karakorum Mountain ranger in Gilgit Baltistan.
This region is surrounded by China's Xinxiang province in the northeast region. The famous and mostly visited towns of Hunza are Karimabad, Altit, and Aliabad which has some of the most beautiful tourist attractions of Pakistan.  
Read More: Hunza Valley – A Heaven on Earth – About Pakistan
Islamabad to Hunza
Tourists can travel to Hunza through airplane as well as by road. There is public transport as well usually from Hunza to Islamabad. The road from Hunza to Islamabad, is top notch and has many beautiful scenic views which are worth seeing. It is approximately 12-13 hours to cover this distance from Hunza to Islamabad from N-15 route. The total distance from Islamabad to Hunza is around 600 KMs.  
Read More: Book best hotels in Gilgit City – About Pakistan
Hunza is the nearly 100-kilometer drive from Gilgit, which takes 2-3 hours of drive if one is planning to travel via airplane. There is a lot to see on the way, from the highest peaks to the beautiful villages and valleys.  
Islamabad to Hunza by Road
While traveling from Islamabad to Hunza by Road one can witness breathtaking and unforgettable natural sceneries. The Gilgit Baltistan Region is considered as the heaven on Earth and one can witness this heaven with their naked eyes while travelling to Hunza.
While one travels from Hunza to Islamabad by road, he can see unprecedented beauty and as you move closer to Hunza, the enormous snow covered peaks of Rakaposhi are clearly visible and one cannot resist to think about the heavenly natural beauty Allah has created.
Read More: Top Adventure Clubs of Pakistan – About Pakistan
Throughout the journey there are snow-capped mountains, the river rushing by, lush green grasslands, and beautiful valleys far and wide. Travelling from Islamabad can be done from public bus as well as on private transport. The public transport includes NACTO bus service and Faisal Movers.  
Hunza during autumn:
Hunza remains beautiful throughout the year but during Autumn season, Hunza Valley is submerged in vibrant color palette as the mountain peaks and slopes are covered in leaves and snow; making the region more attractive than in any other season. With such a lively and unique landscape, there is a reason the valley is often referred to as 'Heaven on earth'. From bright tones of orange and red to calming and comforting shades of yellow, the season brings with it a spectrum of color and beauty. 
Read More: Shigar Valley — Cold Deserts, Historic Fort and Centuries-Old Mosques – About Pakistan 
Hunza Tourist Attractions
Hunza is attracted by thousands of tourists each year from almost all over the world. It has some of the most gorgeous and mind blowing view-points that are irresistible.
Some of the famous tourist attractions near Hunza are as under: 
Rakaposhi 
Lady Finger 
Ghent 
Ultra Sar 
Karimabad village 
Altit Fort 
Baltit Fort  
Attabad Lake 
Passu Cones 
Sost Border 
Hussaini Hanging Bridge 
Read More: The Revival of Tourism in Pakistan – About Pakistan
Hotels in Hunza
Summer is the top tourism season in Hunza, hotels also tend to get busy and pricey during summer season. So, it is suggested to book a hotel in Hunza in advance to avoid any problem in your trip. You can stay at Hunza Hotels in many different places during summer, which are affordable as well, such as: 
Luxus Hunza Attabad Lake: 
Luxus Hotel is located at Attabad Lake. Luxus Hunza Attabad Lake Resort is one of the most popular tourist destinations in Pakistan and gives vibes similar to that of resorts in Maldives.  However, the beautiful mountains and gorgeous Attabad Lake, providing guests with world-class facilities to make their journey to Gilgit Baltistan an unforgettable one.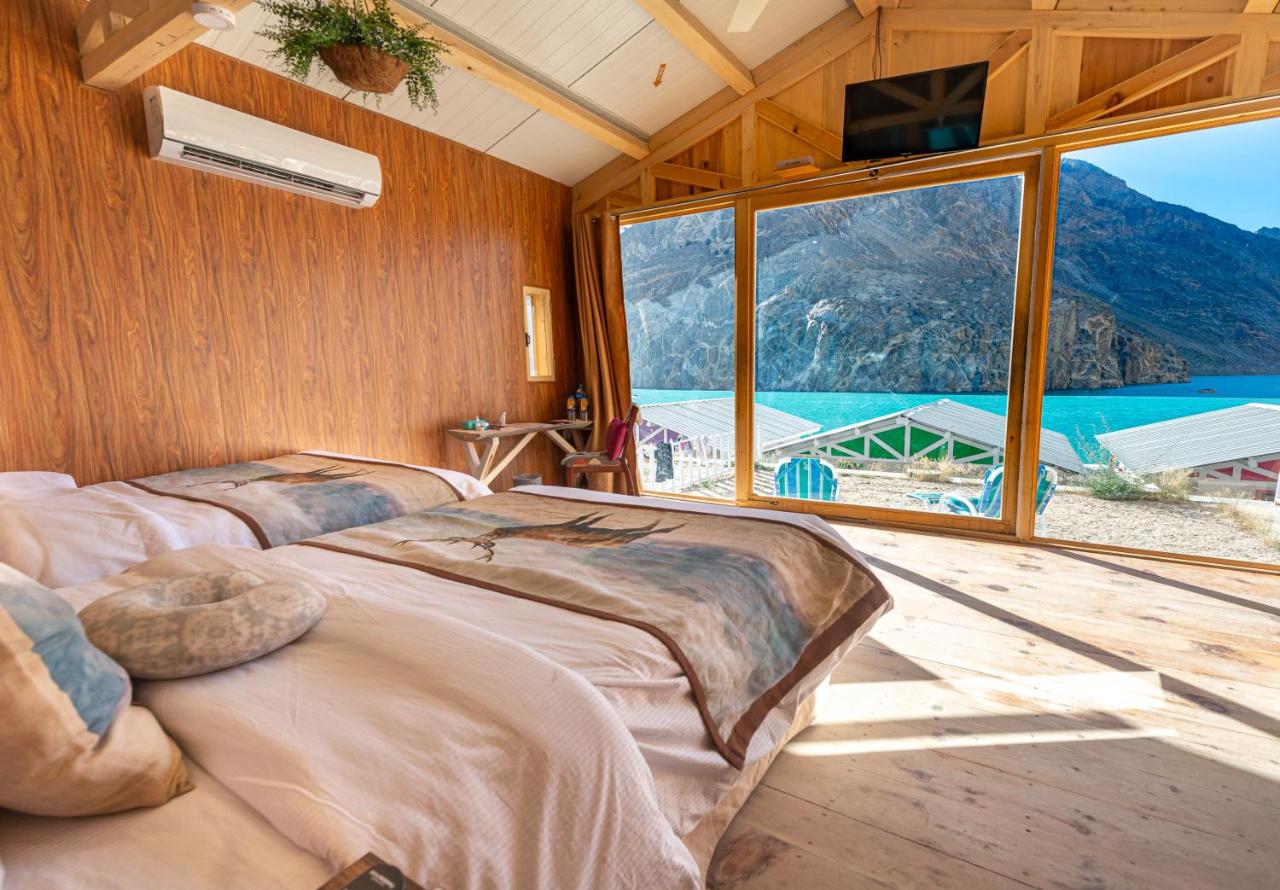 In addition to its beautiful location, the Lake Resort's spectacular interior design and classic woody decorations also played a role in its fame. The large windows in each room allow you to relish the dreamlike view with clear blue water under the clear sky.  
Price range: from 18000 PKR to 25000PKR 
Read More: The Revival of Tourism in Pakistan
Serena Hunza Hotel: 
Serena Hotel is located in the beautiful city of Karimabad (formerly Baltit), Hunza Serena Inn is one of the most commonly known hotels in Hunza, Gilgit Baltistan. Enclosed by the majestic Karakoram Mountains, this deluxe hotel offers beautiful views of the vast lush green fields, the bright blue sky of the Hunza River, and the snow-covered Rakaposhi Mountain.
The greenish gardens, together with the apple, apricot and walnut plantations surrounding the hotel, provide travelers with much-needed respite from busy life. 
Price range: starting from 12,000 PKR to 30,000 
Read More: Famous and Highest Mountains in Pakistan – About Pakistan
Hunza Darbar Hotel:  
As can be seen from the name of Darbar Hotel in Hunza, the hotel provides unique facilities for those who visit Hunza and choose to stay in Darbar Hotel. The Darbar Hunza Hotel has almost 40 rooms, including 5 suites, 21 double rooms and 14 single rooms.
Each room has a contemporary bathroom with 24-hour room service, continuous power supply, laundry, internet service, extra bed on request, and all relevant services is available. Therefore, it is one of the best options to stay while in Hunza.  
Read More: Kharmang Valley — A Spectacle of Nature – About Pakistan
Eagle's Nest Hunza: 
It is one of the first hotels in Hunza run by the family since 1994, it is situated in the Duiker area of ​​Altit in the Hunza Valley. The Eagles Nest Hotel is snuggled among the mountains and enjoys outstanding tourist attractions. In addition, the sight of sunrise and sunset from the balcony of any room is captivating.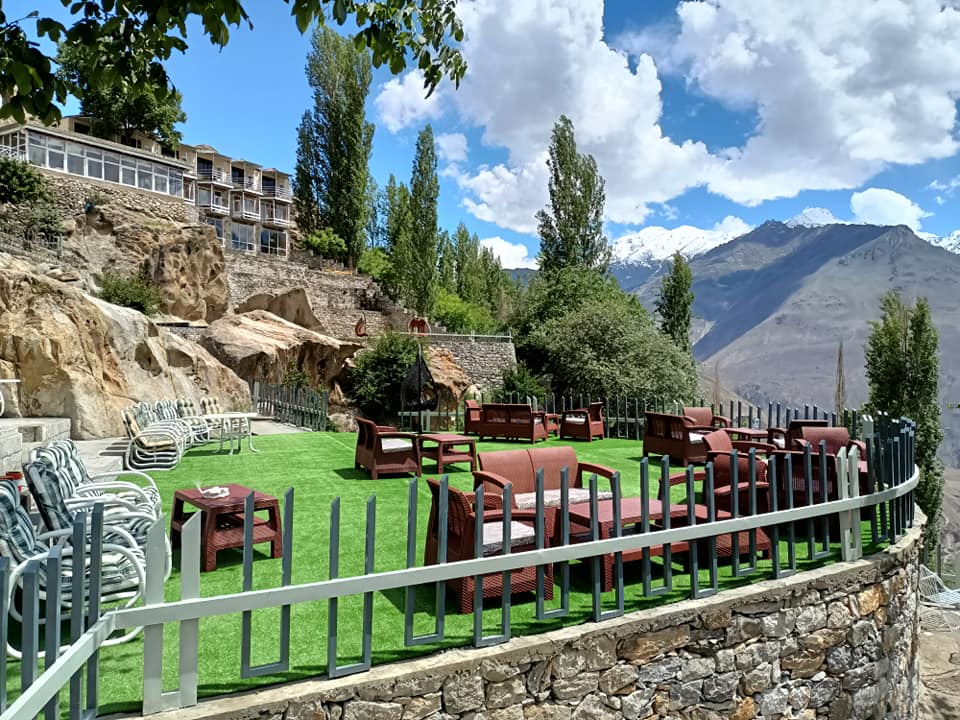 All standard facilities make the night very calming and soft. Lake Natal is not yet common among tourists, but 40 kilometers away from the hotel, the lake is worth seeing. Therefore, it is a great option to stay while in Hunza.  
Hard Rock Hunza Hotel Resort & Villas
Hard Rock Hunza Hotel Resort & Villas is very popular among tourists. It is well-known for its yummiest walnut and apricot cake. It is situated in Hunza Eagle Nest Road Duikar Altit Hunza, Gilgit-Baltistan, Hunza, Pakistan (Hunza Valley). Hard Rock Hunza Holiday Villa is a 5 star hotel. It offers 5-star accommodation with a bar, garden and balcony. It has a restaurant, 24-hour front desk service, a shared kitchen and free Wi-Fi.
It can also provide its guests with free rental service to roam around the city and also free parking. There are different types of rooms to book as per your preference.
Visitors can select different types of rooms:
Quadruple rooms
Twin rooms
Double rooms
Hotel visitors can use amenities such as a flat-screen TV, an electric kettle and a terrace. Therefore, this is one of the best options if one wants to stay at a luxury hotel in Hunza. Rate per night: Starting from 29,000. 
Read More: Skardu — Mountaineers' paradise in Gilgit-Baltistan – About Pakistan
In a nutshell, Hunza undoubtedly is a heaven on earth. It is visited by many national as well as international tourists throughout the year due to its mind blowing natural beauty. However, trip to Hunza requires proper planning and one must know all the details about routes, restaurants, where to stay and which places to explore in order to enjoy it to the fullest. Therefore, to make your trip to Hunza an unforgettable one, you must pre-plan and chose the best for you according to your convenience and take respite from busy routine of life and have best the days of your life in Hunza.