Baltistan is a region in the Gilgit-Baltistan autonomous region in northern Pakistan. This valley is undoubtedly one of the most beautiful canyons in the world. It features stunning waterfalls, some of the highest mountains on earth, confluences of river systems, cities and towns with their own unique cultures and traditions, hot springs, lakes, deserts, highlands and grasslands. This place is considered a gem of Pakistan.
Moreover, Balti locals are very kind, hospitable and welcoming. There are many reasons to visit this heaven on earth, so you must visit it and add it to your next destination. Baltistan is full of tourist attractions. This wonderful piece of land offers a greater chance of escaping the hustle and bustle of normal routine and spend some time peacefully closer to the nature. Whenever one visits Gilgit, it's become difficult to find out the best and the most affordable restaurants and hotels in Gilgit for tourists to stay.
Read More: Gilgit City — The Quintessential Region in the Karakorum – About Pakistan
Here's a list of some of the best hotels in Gilgit.  
Hotels in Gilgit 
Gilgit Serena Hotel:
Gilgit Serena Hotel is a five star hotel in Gilgit Baltistan. It has a garden having breathtaking view and a beautiful lawn with greenery all over. It has all traditional Gilgit food on its menu and large number of people prefer staying here whenever they visit Gilgit. At the Gilgit Serena Hotel each room in hotel has an air conditioned room, a wardrobe, a balcony with a mesmerizing mountainous view, a private and separate bathroom, a flat-screen TV, bed linen, washroom amenities and towels.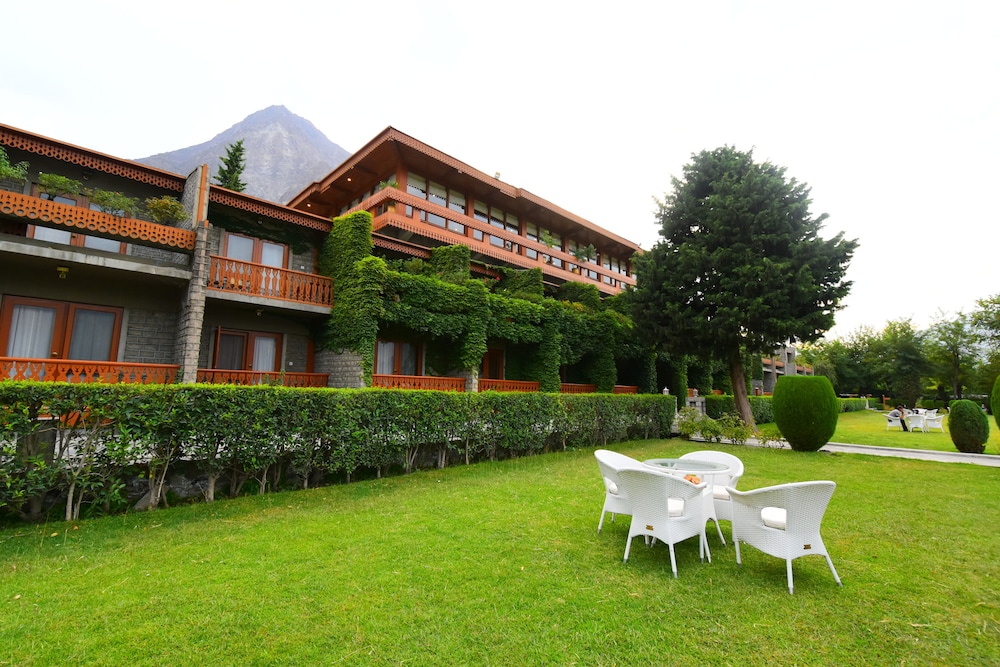 In Gilgit Serena Hotel rooms have a seating area and a perfect balcony to enjoy the outside view. Guests in the accommodation can enjoy a continental or a buffet breakfast and room service is available just one click away. One can play table tennis at Gilt Serena and enjoy the natural serenity to the fullest. It has total 42 guest rooms and their rates vary according to the season. Normally, the rates vary and depends upon the season.  
Indus Lodges:  
Indus Lodges Gilgit is situated in Gilgit-Baltistan and has a drink bar, a garden and a terrace. Among all the other facilities, this restaurant has a 24-hour front desk and room service, along with free WiFi, and other basic amenities. Free private parking is also available and one can also hire a ride to look around beautiful views if they want to. The rooms at the Indus Lodges have a seating area, a flat-screen TV with cable channels and a private bathroom with slippers and all basic amenities and a shower.
Read More: Trekking to K2 base camp in Pakistan – About Pakistan
At Indus Lodges Gilgit rooms have neat and clean bed linen and towels. The food is also tasty and accommodation offers a continental or buffet breakfast. It is a good option to stay with family or even for couples. The rates vary from RS. 6,000 for single room to RS. 8,000 depending upon the season.  
Tourist World Hotel: 
It is a three-star hotel in Gilgit, but what makes it special is that it is located near to Gilgit Airport. It has a restaurant, shared lounge, a garden and a beautiful terrace. This 3-star hotel provides its guests with a shared kitchen and room service. At the Tourist World Hotel, rooms include a wardrobe, bed linens, and towels etc. The private bathroom is fitted with a bidet, bathrobes and slippers. At breakfast, Continental and Asian both options are available.
Hunza is just 50 km from the Tourist World Hotel Gilgit. It has single rooms, deluxe double room, and an executive suite depending upon the price one pays. The rates usually vary according to the season. Normally, single room costs around Rs.4,000-5,000 per night.  
Jamal Hotel Gilgit:  
This hotel is also a good option for tourists and offers the best services with affordable prices. The staff is very nice and serve well, the room are spacious, clean and comfortable too. They have wifi facilities, room services 24/7, and neat and clean bathrooms. Their breakfast is up to the mark and is very reasonable for the price.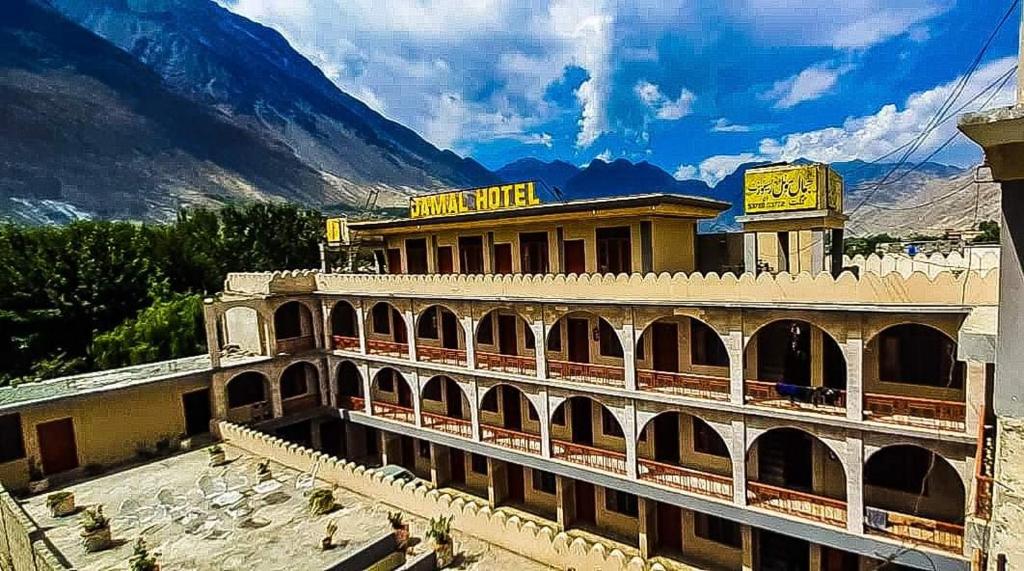 The stunning view from the rooftop is to die for. There is a local market near the hotel, and one can enjoy a stroll at night time and explore the city before going to bed. Overall, it is one of the best options to stay while on vacations in Gilgit.  
Read More: Best Beach Destinations in Pakistan – About Pakistan
In a nutshell, while going to Gilgit for recreational purpose and tourism, one must decide the restaurants and hotels in Gilgit besides all the sight-seeing activities. Gilgit has many options for staying in varying prices and amenities they provides from as low as Rs. 3,000 per night to almost Rs. 40,000 per night. Therefore, to get the best experience and enjoy the trip to the fullest, one must plan everything according to their own budget and convenience.