Faisalabad, the 3rd largest city is famously known as Manchester of Pakistan. It is the third most populated city of Pakistan. Its old name was Lyallpur. It was called Lyallpur till 1977, but then its name was changed to the current name in reverence of the Saudi King, Shah Faisal Bin Abdul Aziz.
Faisalabad is known to be the third largest city of Punjab after Lahore. British Lieutenant Governor of Punjab, Sir Charles James Lyall founded the city and the name Lyallpur was in his honor. With the passage of time, Faisalabad has turned into an industrial hub having the biggest textile industries of Pakistan.  
Faisalabad is also known as Manchester of Pakistan, because it is the biggest textile city of Pakistan and all the industries here are related to textiles and the same is Manchester in UK so these cities are also known as Twin Cities. Locales also called it "The city of textiles" for similar reasons.  
Another thing which attracts people to this great city is its food. It has yummiest traditional food available everywhere. This city also has historical importance of which many people are unaware. Therefore, Faisalabad is a city which everyone must visit once in their lifetime. Here are some of the best places to visit in Faisalabad. 
Clock Tower Faisalabad 
Faisalabad has a very famous own Big Ben, the Clock Tower or locally known as "Ghanta Ghar", located in the city center. It was constructed during the colonial era by the British. It has an apparent British architecture which makes it look stunning standing tall in the center of the city. Furthermore, there are several markets surrounding the Ghanta Ghar. It has eight markets surrounding it, and all of these markets has diverse range of items available. It has a lot of shops and one should definitely visit these markets and enjoy the ultimate shopping experience from local shops.  
Read More: Exploring different employment opportunities in Pakistan – About Pakistan
Lyallpur Museum
Faisalabad was previously known as Lyallpur. Hence, the name of the museum was on Faisalabad's previous name. Its construction was started in 2010 and completed in 2013. The museum has many artifacts dating back to old times. Lyallpur museum has 10 different galleries and each one depicts artifacts from different times.
The first orientation gallery has different periods of history that are depicted on a wall through mural which itself tells the historic and cultural story from stone-age to Lyallpur's building called Gumti. The other galleries are Sundal Bar gallery, Mughal to British heritage gallery and Lyallpur Gallery etc. Therefore, one must visit with their kids to this museum and enjoy the history and artifacts. 
Allama Iqbal Library
The Allama Iqbal Public Library of Faisalabad is open for both inhabitants and tourists. It has an enormous collection of books that dating back to the early 1900s. For book lovers and literary fans, this library is a treasure. Even if one is not so fond of reading, this library's peaceful atmosphere and old architecture makes it a must visit place. 
Jinnah Garden
Jinnah garden is named after the founder of Pakistan, Mohammad Ali Jinnah. It is a beautiful garden with greenery and serene environment. The fresh air and mild breeze here is an exceptional way to experience after a long tiring day. It has been an abode to many exotic birds. This is also a must visit place with family or even alone to enjoy the natural vibes.
Read More: Internal and international migration in Pakistan – About Pakistan
Top Five Famous Restaurants in Faisalabad
Pakistani food is no doubt one of the best cuisines in the world. However, Faisalabad being the third most populated city in Pakistan has a cuisine which is equally tasty and finger licking. People here belong to different ethnicities and cultural backgrounds due to which, it has diversity of food. The city has fusion dishes and their local dishes are equally impressive. The famous Rail Bazaar has a lot of food stalls and restaurants that one must enjoy. However, some of the most famous food places in Faisalabad are: 
Fork n Knives Pizza Kitchen: 
They have pizzas in multiple flavors. Their quality is authentic Italian to treat your taste buds. The restaurant is rated high among others in terms of pizza. There are other options available as well, including salad, potato wedges and wings etc. They have economical pizza deals and can deliver online as well. This is a must visit place for pizza lovers and you should visit Fork n Knives Pizza if you ever go to Faisalabad. 
Baba Tikka Shop: 
It is one of the best restaurants that serve customers with delicious BBQ. Especially famous for its tikka, it serves hundreds of people on a daily basis. It has almost all BBQ items on its menu and it is a must visit place for delicious lunch with your family for an excellent dining experience.  
Read More: An Insight To Pakistani Cuisine – About Pakistan
Tabaq: 
It is one of the top rated restaurants in Faisalabad. It has all the continental as well as desi food. This restaurant serves delicious food at affordable prices and also with great ambiance and peaceful environment. This is a perfect place to visit with your family for dinner or lunch.  
Bundoo Khan: 
It is an international restaurant with many branches in different parts of the world including Dubai. It has high quality food and their service is just awesome. It has almost all varieties of desi food. Therefore, it is a must visit place for desi food lovers and its ambiance makes It worth visiting with the family.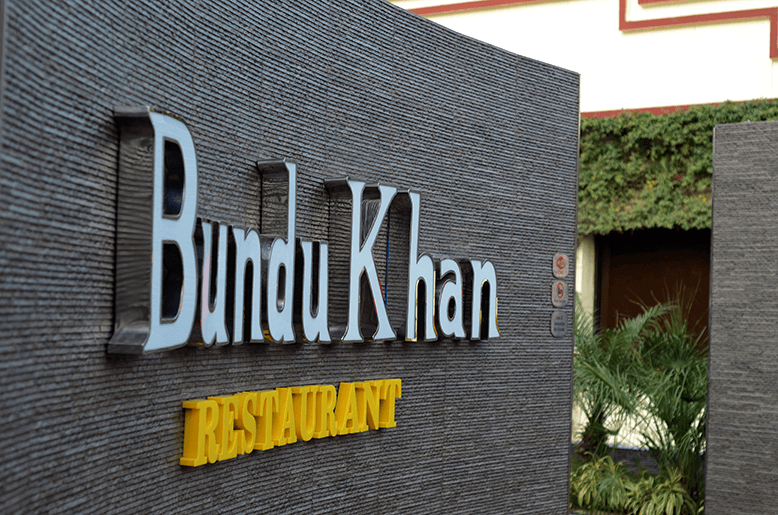 Faisalabad Serena Hotel: 
Faisalabad Serena Hotel has a tennis court, fitness center and extensive lawns. It offers extravagant and comfy accommodation with free WiFi access, 24-hour front desk and provides complimentary parking on site. It has fully furnished air-conditioned rooms and suites come with carpet flooring, a clothes rack, an in-room safe and seating area.
There is a minibar and a flat-screen satellite TV as well. It has an outdoor pool and a squash court as well. All other international dining and hotel services are also present. While talking about food, it has Punjabi cuisine for guests to savor. Therefore, to enjoy the extravagant hoteling experience there is no other better option than Serena Faisalabad.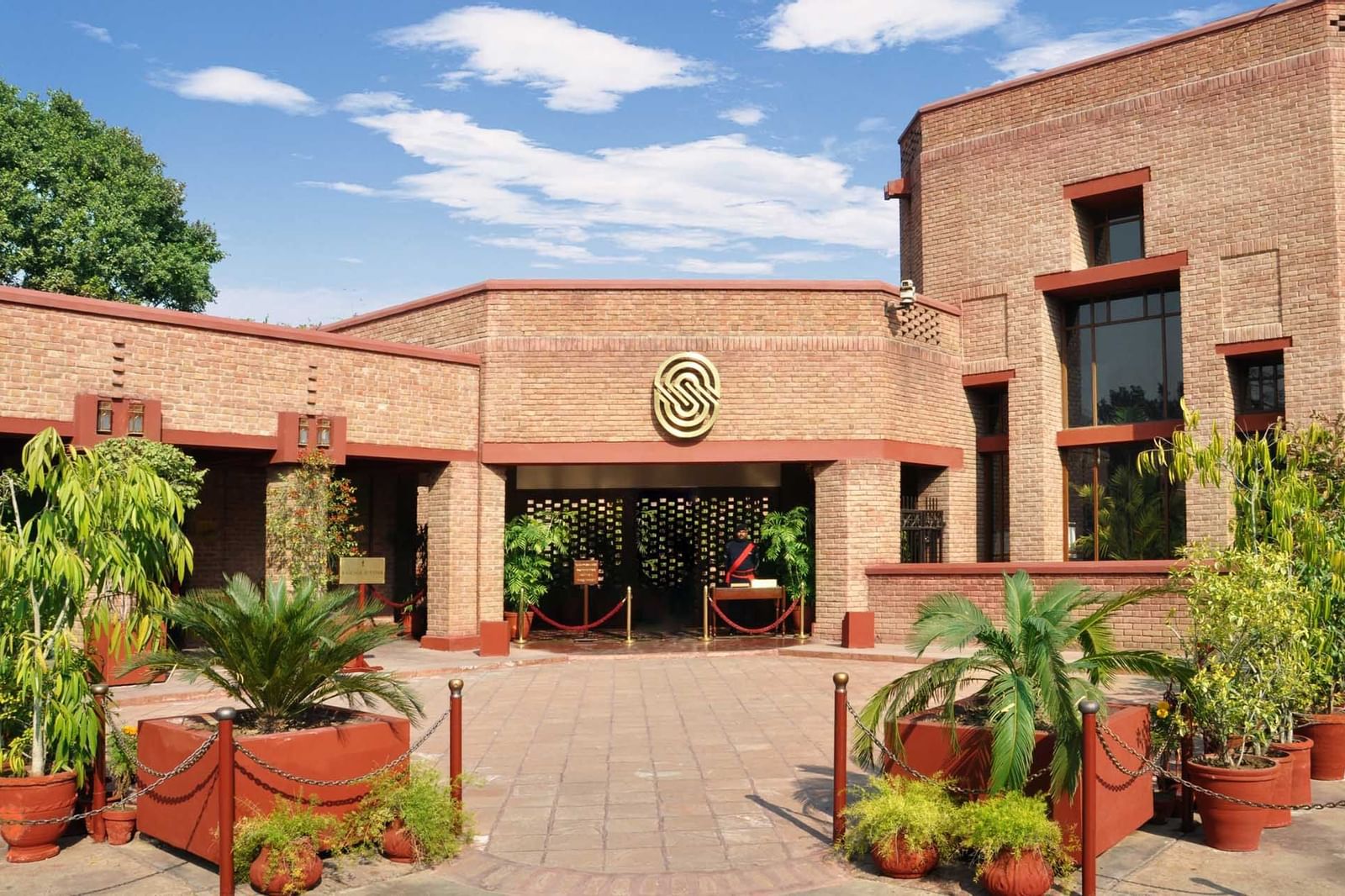 Top Five Shopping Malls in Faisalabad
Grand Atrium Shopping mall: 
Grand Atrium is an all in one premium luxury shopping mall that is located in the heart of Faisalabad. It has a large number of shops along with grocery store. It contains within itself, many floors. It has branded shops of almost every brand as well as different restaurants on different floors in addition to a complete floor that is dedicated to food court. There is also a play area. Therefore, it is a must visit place for shopping lovers.  
Read More: Urbanization and Growth in Pakistan – About Pakistan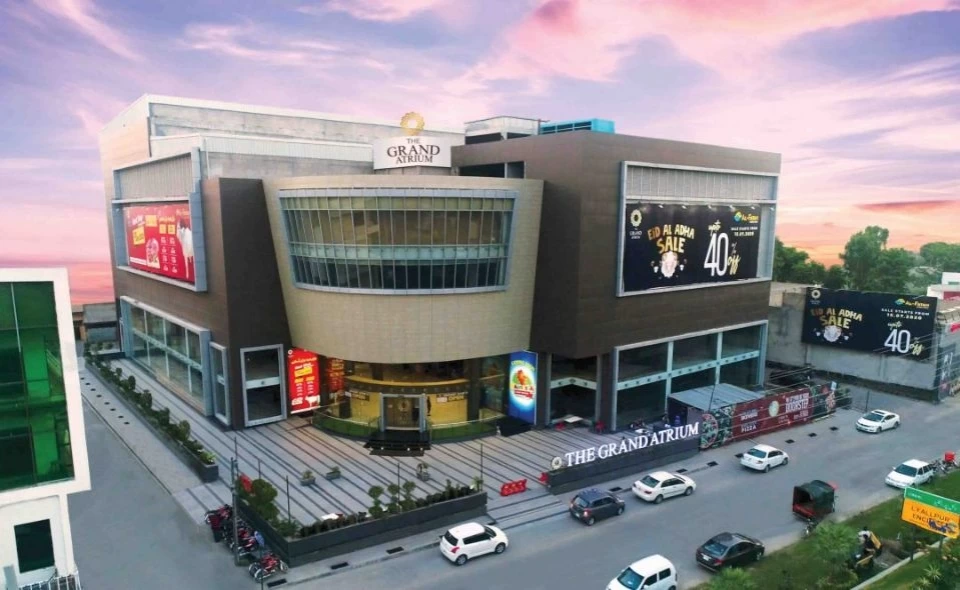 The Boulevard Mall: 
The Boulevard Mall is located at the prime location of main GT road, Boulevard Mall has some of the best brands of Pakistan. Like other top tier malls, Boulevard Mall has a wide range of shopping outlets, grocery stores, play area, food court, spacious parking space and a cinema which is very famous. It has 4 floors, each with unique brands and items available. The mall looks amazing due to an impressive Retail Section, Roof Top Restaurants, a children's recreational zone, play area, a Food Court a renowned Fitness Studio & a Bowling Area to enjoy and have an exciting experience.  
Lyallpur Galleria: 
The architecture of this mall has been just amazing. It is named after the old name of Faisalabad and it has given the look of old British architecture from outside and catches everyone's attention. It is located on the East canal Road near Kashmir Pull Faisalabad. It has different Brands, Food Chains and Other entertaining activities Like Cinema and play area for children.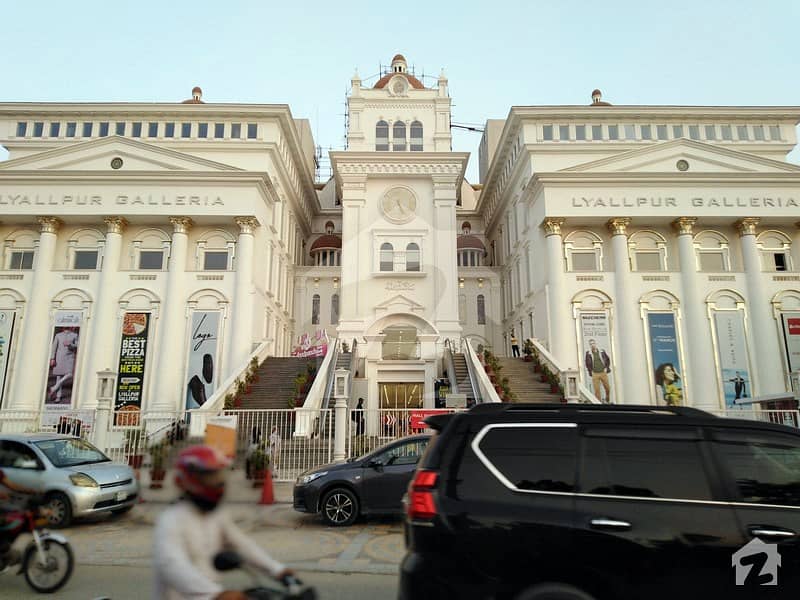 Chase Value Mall Faisalabad: 
Chase Value is best retail store for Online Shopping in Pakistan selling Cosmetics, Unstitched Fabrics, Artificial Jewelry, Shoes, Bags, Watches, Crockery, and almost everything. After opening many branches in major cities of Pakistan, it has opened its branch in Faisalabad as well and giving people an ultimate shopping experience. If you are a shopping lover, you must visit Chase Value to shop at reasonable prices.  
Kohinoor Plaza: 
Kohinoor plaza is located on Jaranwala Rd, Kohinoor City, Faisalabad. It has all types of foods, Clothes and daily groceries, branded shops, kids play area and a parking to ease the customers. It is located in busy area of Faisalabad and is easily accessible to almost everyone. Therefore, Kohinoor plaza must be visited to have the best shopping experience when in Faisalabad.  
Read More: Why Pakistani Grown Mangoes are Popular in the World – About Pakistan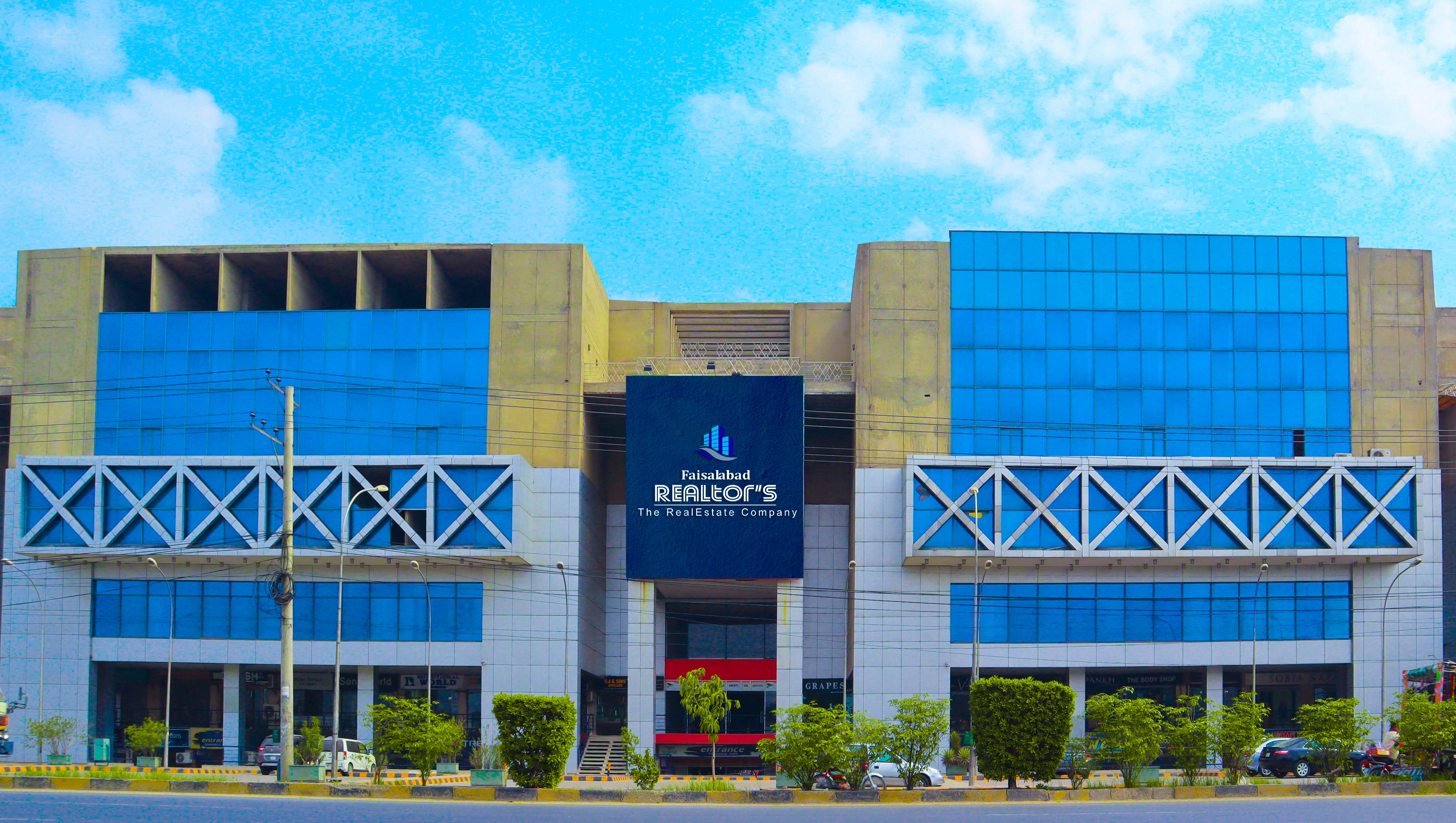 Textile industry in Faisalabad
Pakistan is the eighth biggest exporter of textile goods in Asia and it is the fourth largest manufacturer and the third-largest purchaser of cotton. Pakistan's textile industry is ranked amongst the highest ranking industries in the whole wide world. The main production is based upon cotton.
Furthermore, the convenience of a low-cost labor force in addition to simple raw cotton such as raw material for the material industry helps in progression of the Cotton in Pakistan textile industry. Consequently, after India, China, and Bangladesh, Pakistan is the fourth leading manufacturer and producer of cotton in the whole world. Most of the textile business in Pakistan is located in Faisalabad and this city is famous for textile industries.
There are different kinds of industries including Wholesale Apparel Cloth Retailer, Terry Toweling, hosiery, Textile Machinery and ready-made garments. Furthermore, there are other industries as well, including manufacturing industry, foundry, engineering, chemical, ghee, pharmaceuticals, and construction material up to some extent.  
Read More: Industrialization in Pakistan and its Impact – About Pakistan
The top 10 textile mills of Faisalabad are:
Kausar Textile Industries Pvt Ltd
Okara Corporation Pvt Ltd.
Nimra Textile Pvt Ltd
Ihasan Yousuf Textile Pvt Ltd
Qarni Textiles Ltd
Crescent Textile.
Chawla Enterprises
Rashid Textile Printing Industries
Saab Weaving Textile Mills
H.J Textile Mills
Faisalabad is one of the most attractive cities in Pakistan. The people are very friendly and welcome tourists with open arms. It has a lot of good places to visit. Along with tourist spots it has been a country's largest industrial hub. The economy of country is dependent upon industrial zone of Faisalabad. So, one must visit Faisalabad and enjoy the exceptional experience there.