A startup is a young company set up to develop and bring to market a unique product or service, making it attractive and irreplaceable to its customers. Rooted in innovation, startups aim to fix flaws in existing products or create entirely new categories of goods and services to disrupt industry-wide entrenched thinking and business practices. As such, many startups are considered "disruptors" in their respective industries.  
You may be more familiar with Facebook, Amazon, Apple, Netflix, Google, and startups in the big tech space known together as FAANG stocks, but even companies like WeWork, Peloton, Beyond Meat, etc. considered. 
How Do Startups Work? 
Broadly speaking, startups work like any other company. A group of employees works together to create products that customers buy. But what sets startups apart from other companies is the way they do it. 
Regular companies replicate what has been done before. Prospective restaurant owners can franchise existing restaurants. In other words, it works on an existing template of how a business works. The startup has the goal of creating an entirely new template. In the food industry, that means offering meal packages such as Blue Apron and Dinnerly. They offer the same thing as restaurants (meals cooked by a chef), but with the convenience and choice that sit-downs do not. This provides a scale that individual restaurants cannot match. Tens of millions of potential customers, not thousands.
Read More: Pakistani startups raised record $540 million across 99 deals since 2021
Top Ranked Startup Countries In The World 
Below we are going to discuss about the countries who ranked highest among the countries having startup businesses in the world.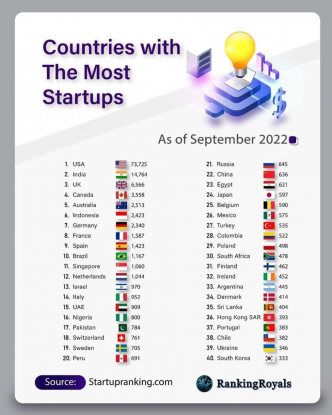 United States of America (USA)
According to the recent report by start-up blink, global ecosystem 2020 to do US maintains its status as the highest rank country among the countries having to start a businesses. The USA remains at the top of the list for three years in a row 2020, 2021 and 2022 US participated in this report, while having many of the cities which are considered a start of leaders in the world. 
India
The country which ranks second among the countries having start-ups is India, the country has almost 14,950 start-ups, including some of the most famous start-up companies such as W3 schools, Cashkaro, InstaMojo, popXO.com, Holidify, Apple Pie, Collegedunia, cutt.ly, and Razorpay.  
Read More: B2B e-commerce startup Jugnu raises $22.5 million in Series A Round funding
The W3 schools is a tutorial platform where you can study everything, including HTML, XHTML, HTML5, CSS, and JavaScript, etc. This website has been used by millions of people around the world to learn web technologies. 
United Kingdom (UK)
Where the third country on the list is United Kingdom having almost 6610 start-ups in total sum of the most famous start-ups, which UK has contributed in are Revoult, Bark.com, Workable, What3words, Marvel Coggle, SE Ranking etc.  
Canada
The fourth country which is on the list of the countries having most of the start-ups is Canada, Canada has 3591 start-ups, some of the most famous start-ups in which Canada has contributed are Windscribe, SnapTravel, Sirved, NDAX, Logo.com etc. 
Australia
Australia stands fifth on the list, having total of 2541 start-ups, some of the most famous start-ups in which Australia has contributed include Gleam, Man of Many, Bugcrowd, Paperform, Brosa, Avaza, Askable, Hike POS, Fyrebox and DealDrop etc.  
Indonesia
Interestingly, the next country on the list is Indonesia, having 2432 start-ups in total. Indonesia, being an emerging country in the list has been a part of many of the famous start-ups, including Uzone Indonesia, Jurnal, Ilmu Gadget Store, and NiagaHoster.  
Germany
The next country on the list is Germany having 2340 start-ups making Germany, one of the top countries in the list of start-ups in the world. Some of the famous start-ups in which Germany has contributed include Contentful, JustWatch, Clue, EarlyGame, Type Studio and Hem among many others.  
France and Spain
After Germany, France is in the lead having 1587 start-ups in total, France ranks on 8th in the list of start-ups, the famous start-ups, in which France has contributed includes Tilda Publishing, Liligo, Front, Crisp, Reezocar, Ratatype and Aircall etc. While Spain is at 9th position on the list with many of the famous startup businesses.  
Read More: Health startup medIQ raises $1.8 million in pre-seed round
Brazil
Been stood at nine position having 1425 start-ups in total by Brazil is 10th on the list, having almost 1168 start-ups. 
United Arab Emirates (UAE)
However, the countries like United Arab Emirates stood at 15th on the list, having almost 934 start-ups in total, although it is considered to be one of the potential countries for start-ups. 
Pakistan
Pakistan's rank is also among top 20 countries, having start-ups. It stood on 16th having almost 808 start-ups, some of the most famous start-ups of Pakistan are PriceOye, Dawaai, Shopsy.pk, Telemart, Jobsalert.pk, Bykea, Qistpay, Ilaan.com, Daraz.pk, and Telebrand.pk among many others.  
China and Russia
Among the countries having most start-ups in the world, China ranks 22 on the list having almost 636, start-ups, whereas Russia ranks at 21 having almost 645 start-ups.  
Funding Criteria For Startups 
There are many ways to fund or capitalize the startup, some of them are discussed below.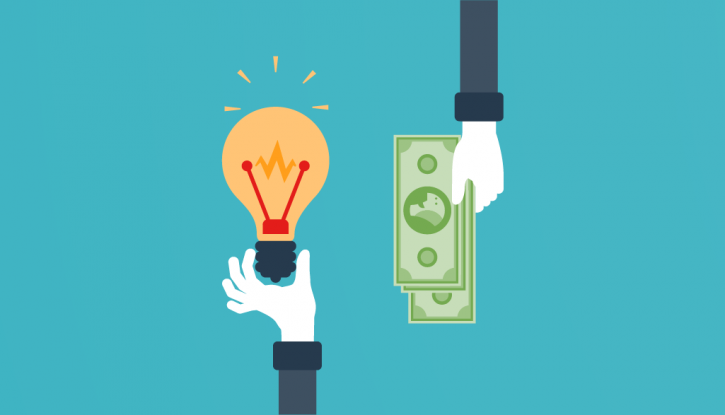 Bootstrapping your start up
One of the ways to add funds to your startup business is self-funding, which is also known as bootstrapping. Usually, the entrepreneurs who are difficult to manage friends and to get funds from different sources. Therefore, self-funding is a good option. It is considered as one of the best ways to start your business and investors are showing more interest in such businesses after a certain time.  
Crowdfunding
Crowdfunding is one of the new ways to fund startups that is gaining popularity these days. It's like taking a loan, pre-order, donation, or investment from multiple people at once.  
How Crowdfunding Works – An entrepreneur posts a detailed description of business on crowdfunding platform. He mentions the company's goals, plans to make a profit, the funds needed and why. Consumers can read about the company and donate if they like the idea. People donating money make online pledges promising to pre-purchase products or donate. Anyone can make a donation to support a company they truly believe in. 
Angel Investment In Startups
Angel investors are individuals with surplus funds and a strong interest in investing in emerging startups. Also, work with a group of networks to review proposals together before investing. In addition to capital, we can also provide mentoring and advice. Angel investors have helped launch many high-profile companies, including Google, Yahoo, and Alibaba. This alternative form of investment is typically made in the early stages of a company's growth, with investors expecting up to 30% stake. They prefer to take more risk when investing in order to get higher returns. 
Read More: Funding into Pakistani startups dipped 40% since PM Shehbaz took office
Corporate Venture Capital
We bet big here. Venture capital is a professionally managed fund that invests in companies with great potential. They typically invest in a company for an IPO and exit during an IPO or acquisition. VCs provide expertise, mentorship, and act as a litmus test strip for an organization's direction by evaluating businesses in terms of sustainability and scalability. Investing in venture capital may be suitable for small businesses that are past the seeding stage and are already generating income. Fast-growing companies such as Flipkart, Uber, and others already have exit strategies in place, with up to $10 million available for investment, networking, and rapid business growth. 
Business Incubators And Accelerators
Early-stage companies can consider incubator and accelerator programs as funding options. These programs can be found in nearly every major city and support hundreds of startups each year. Although used interchangeably, there is little fundamental difference between the two terms. An incubator is like a parent to a child, growing a business and providing shelter, training and networking for the business. So, accelerators are more or less the same thing, but incubators help/assist/encourage companies to take steps, and accelerators help take steps/big leaps.  
Financing Through Bank Loans
Banks are usually the first port of call for entrepreneurs when considering financing. Banks offer his two types of loans for businesses. One is working capital loans and the other is financing. A working capital loan is a loan required to run a full cycle of revenue-generating operations, and limits are usually set by the equity and the debtor's collateral. Bank financing involves the normal process of sharing business plans and valuation details, as well as project reports on which financing is approved.
What if I am not eligible for a bank loan? You have one more option. Microfinance essentially provides access to financial services for those who do not have access to traditional banking services. It is becoming increasingly popular for people with limited needs and credit ratings not favored by banks.
Read More: UET wins Microsoft Imagine Cup 2022 and awarded $10,000 seed capital for startup
Government Programs That Offer Startup Capital
The previous government has launched programs to provide capitals for startups to youth one of those included Kamyab Jawan Program which provided capital to a lot of startups.  
While Pakistan's ranking on the countries among freelancers is also improving subsequently. IT industry has potential to grow and flourish in Pakistan and a large number of startups relating to IT are in line in Pakistan. Therefore, Pakistani people need to contribute more towards services-based startups in addition to those which are already present and benefiting people to a large extent, as it can contribute towards the economy and make Pakistan prosperous.