American singer Rihanna has apologized to the Muslim community after using a controversial song with hadith at her latest Savage X Fenty lingerie show.
She received an immense reaction online for using the song 'Doom' by the British artist Coucou Chloe, which included an Islamic Hadith. The singer says that the song was "irresponsible" and an "honest yet careless mistake."
In the song, a verse was a part of a Hadith which relates to judgment day.
The offending song titled Doom which is produced by Coucou Chloe, already apologized on her Twitter account, saying she was not aware that the song contained Islamic verse in it.
Although the Rihanna brand Fenty has been praised over the variety it showcased and for its inclusivity, the Muslims across the world questioned using the song when the lingerie show streamed on Amazon Prime on 2nd October.
She stated regarding this matter "I do not play with any kind of disrespect toward God or any religion and therefore the use of the song in our project was completely irresponsible!
Rihanna further added about the hadith row: "Moving forward we will make sure nothing like this ever happens again. Thank you for your forgiveness and understanding, Rih."
She tweeted: "The song was created using samples from Baile Funk tracks I found online. At the time, I was not aware that these samples used text from an Islamic Hadith.
"I take full responsibility for the fact I did not research these words properly and want to thank those of you who have taken the time to explain this to me. We have been in the process of having the song urgently removed from all streaming platforms."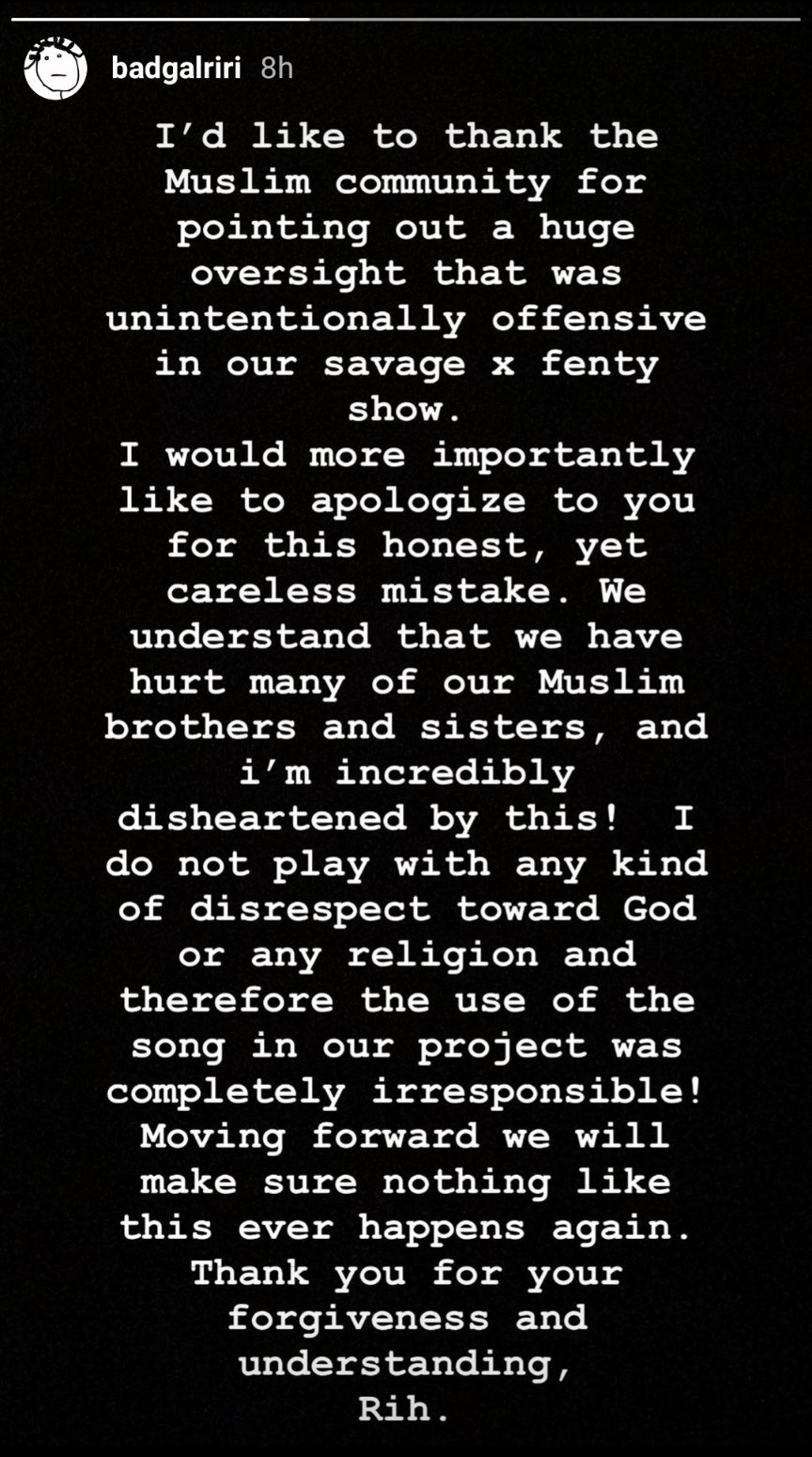 A Hadith is the collection of texts which is spoken by the last Prophet Muhammad (PBUH). After the holy book Quran, the Hadith is considered to be the most religious text to the Muslim community.
Image source