The number of people who have recovered from the Covid-19 in Pakistan has surpassed 100,000 that is about 50% of total infections.
Sindh has 47% of the total recoveries. Punjab has 27%, KP has 13% and Islamabad has 7% of Pakistan's total Covid-19 recoveries.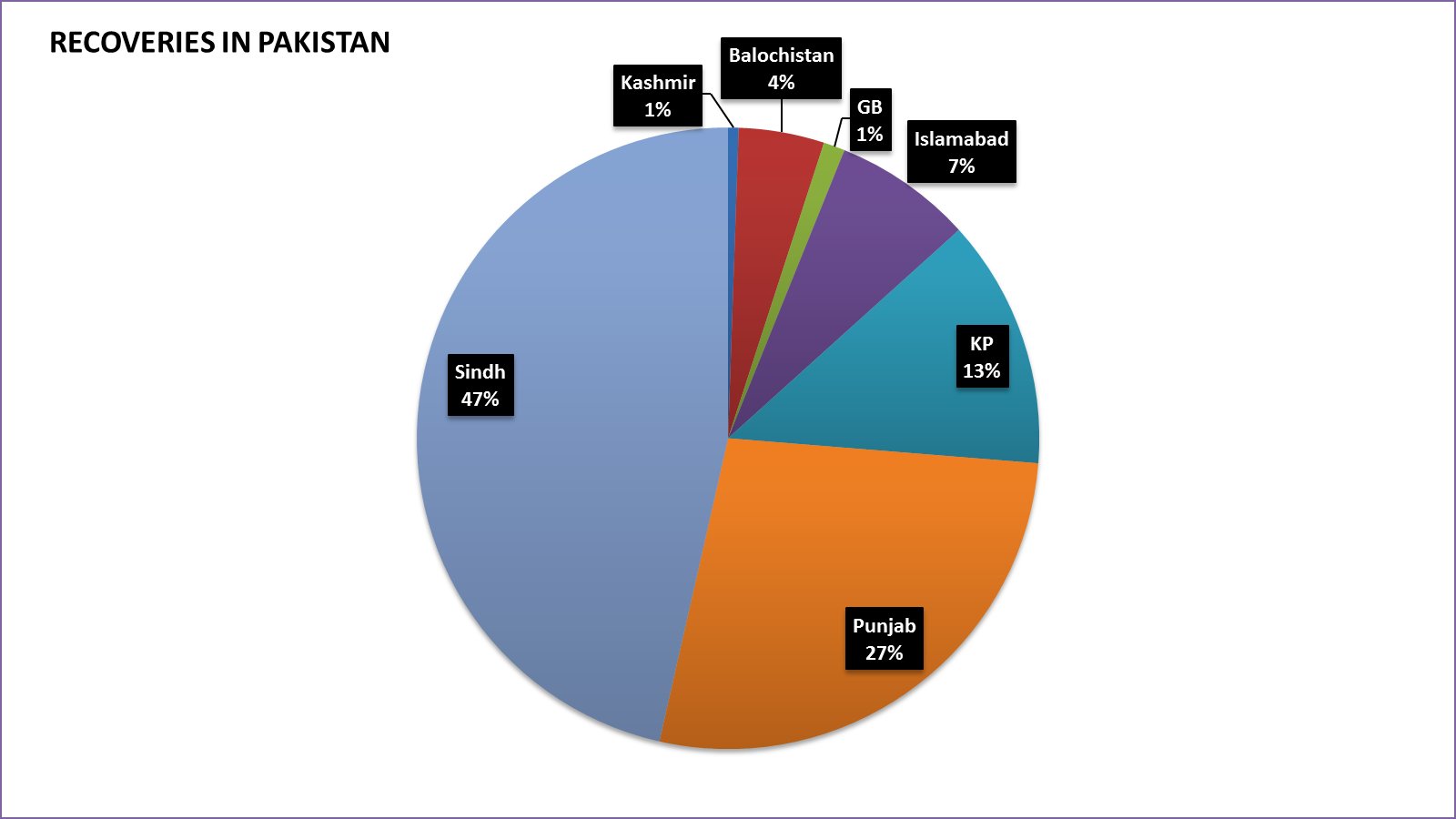 The mortality rate of the COVID-19 infected patients in Pakistan is around two percent and the recovery rate is 33.1 percent.
New cases reported in the last 24 hours are 4,133 and the country's total cases reached are 213,470, including 100,802 recoveries.
Another 91 patients died in the last 24 hours, bringing the death toll to 4,395, the ministry said.
According to official statistics, Pakistan, which recorded over 130,000 COVID-19 cases in June alone, has conducted more than 1.3 million tests so far.
Planning Minister Asad Umar, who is heading of the COVID-19 response team NCOC, recently warned that the number of infections could exceed 1 million by the end of July if the current trend persists.
Situation improving with 100,000 COVID-19 recoveries
Federal Minister for Planning, Development and Special Initiatives Asad Umar has said that all the circumstantial evidence indicates a drop in patients' inflow at hospitals due to the slight improvement in the situation.
The smart lockdown imposed in scores of hotspots in different parts of the country including Islamabad has helped in curbing the spread of the virus.
The total number of new coronavirus reported cases started dropping in Punjab and related deaths have also been started dropping in the province.
A health department official said the number of new coronavirus-positive cases might further drop and COVID-19 recoveries will further increase in the days to come following the latest "selected lockdown" imposed in different localities in Lahore and other cities. Since the coronavirus incubation period could go up to 14 days, the official said a fair comparison of new cases could be made by June 30.
The sudden rise in cases may have made people to start taking precautionary measures and observe standard operating procedures. This can be the big reason behind the dropping of new cases in Punjab.
Image source link