On Tuesday, Prime Minister Imran Khan approved a new political map of Pakistan integrating the whole Jammu and Kashmir for the first time in history.
The new official political map now includes the whole of Jammu and Kashmir, Siachen, Sir Creek in Kutch, and Junagadh in Gujarat.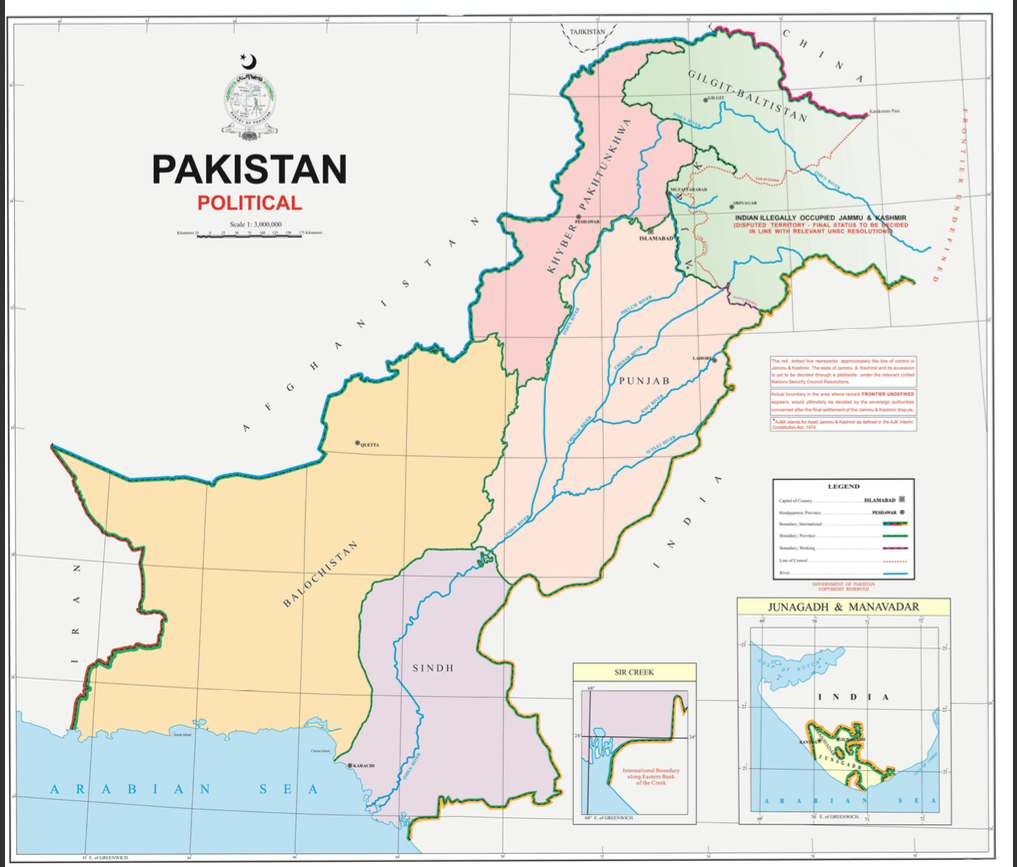 Imran khan unveiled the new political map of Pakistan alongside Shah Mehmood Qureshi the Foreign Minister. The premier told while addressing the nation that it would be the official map after Federal Cabinet approves it and it would then be used in schools and colleges.
The landmark move is timed with the first anniversary of the abrogation of Article 370 and is seen as Pakistan's response to India's unilateral decision to strip the Indian side of Kashmir of its autonomy last year on August 5.
The map now carries the Illegal Indian Occupied Kashmir and states that the final status of it will be decided in line with the relevant United Nations Security Council (UNSC) resolutions. The map rejects the illegal steps that were taken by India on 5th August in 2019. The premier told that all the federal cabinet and political leaders of the country supported this new map.
New Pakistan Map affirms the right to Kashmiris for self-determination
Moreover, the premier also said that the Kashmir issue could be solved by the UNSC resolutions, UNSC resolution gives the people of Kashmir the right to self-determination.
Read more: Pakistan to confer Nishan-e-Pakistan to Syed Ali Geelani
Prime Minister Imran Khan said, "Their right to self-determination, given to them by the world community, has still not been given. And we clearly want to say to the world that it is the only solution," he also told that government would continuously work to help in this regard. "We will do political struggle, we don't believe in military solutions. We will remind the UN again and again that you had made a promise [to the people of Kashmir] which you did not fulfill."
While presenting some changes in the political map, Shah Mehmood Qureshi the Foreign Minister said that this newly introduced map is the first time in Pakistan history where map reflects the ambitions and objectives of the people although, the administrative map has been introduced before. He added that Kashmir is clearly shown in the map as a disputed territory. Siachen is also the part of Pakistan that has been clearly shown.
FATA is shown as part of KPK while Gilgit Baltistan and Jammu and Kashmir have been shown in one distinct color. According to the map, "The red dotted line represents approximately the LoC in Jammu and Kashmir. The state of Jammu and Kashmir and its accession is yet to be decided through a plebiscite under the relevant UNSC resolutions,"