The federal government has started the task of registration of the religious institutions (Madrassas) in Islamabad, Azad Kashmir, Gilgit-Baltistan, and in all the four provinces of Pakistan from Oct 5.
According to the sources, eight to ten heads of different institutions had contacted the coordination office of the ministry of education but no one came to collect the registration forms in Islamabad. Sources further said that boards of the institutions (Ittihad Tanzeem-ul-Madaris) need some clarifications about the registration process.
Read more: Punjab Govt Makes Reading Quran Mandatory in Universities
Registration aims to connect the religious institutions with the professional education and training system of the country. Registration centers have been established in 133 districts of the country.
35 in Punjab, 24 in Sindh, and 31 districts of Khyber Pakhtunkhwa, coordination offices have been established along with the coordination officers. 25 in Balochistan, 9 in Azad Kashmir, and 8 centers in Gilgit-Baltistan have been established.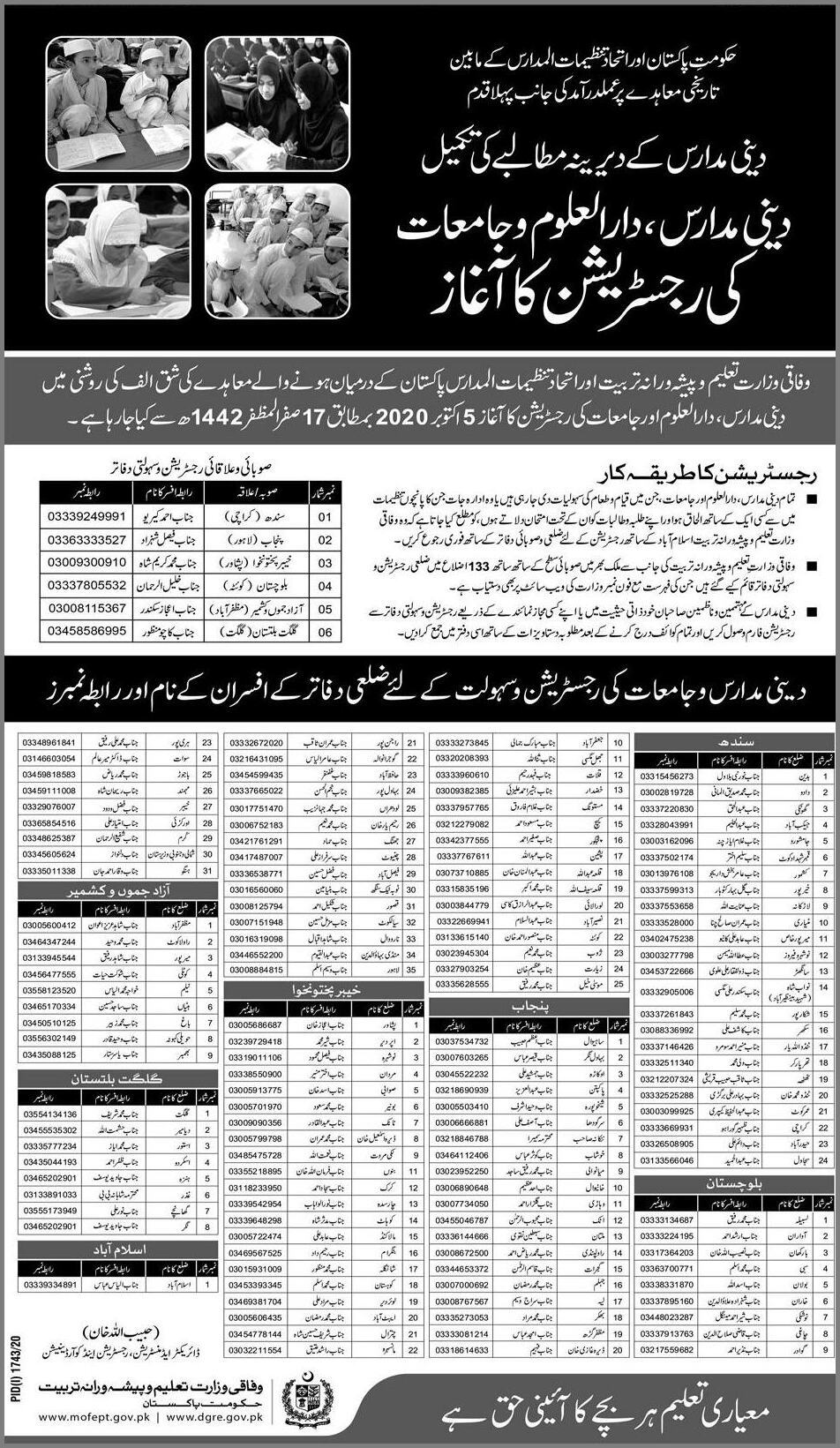 The issue of a religious institution is sensitive in Pakistan and that makes the registration of Madrassas a huge issue. In past too, efforts to bring these educational institutions into the mainstream had been made but in vain. Those who are running the Madrassas oppose such regulations and run them their own way, under their own boards like Wifaq ul madaris, Tanzeem ul Madaris, etc. They do not like any intervention in their affairs.
There had been a big pressure on the government of Pakistan after 9/11 to sort out these institutions therefore government started taking steps though in a positive direction but the effort could not be fruitful. This is a fact that thousands of children from poor families are enjoying free lodging and food facilities.
It was also admitted by the former President, Gen. Pervez Musharraf as he had called these institutions the biggest NGO, providing free food and lodging along with education.
The recent step of the government to register these institutions can be fruitful if they are taken in full confidence and surety may be given to them that the students of these institutions would be in a better position to get good jobs and disparity between two types of education will be minimized.
Image source