Esra Bilgic aka Halime Hatun, the popular Turkish star and the love of Pakistan has been persistently morally policed by Pakistani men on her Instagram account's pictures but this time she hit back at a moral policing troll.
Watching Pakistani trolls taking the duty upon themselves to moral police and shame Esra Bilgic for a while now has been infuriating. Forget about being a nuisance to the women of this country, they've gone international! Bilgic, who has graciously been silent for a long time now, has finally clapped back — and we're so here for it.
When a user commented on one of her photos "Please don't wear such dresses Halima baji, not good," referring to her character from Dirilis Ertugrul, the actor just about had enough.
She replied back on his comment as "Let me give you a little advice: Don't follow me. Thank you." We can't believe we have to say this but repeat after us slowly: Down goes the moral policing and Esra Bilgic is Halime Sultan in reel life, not real life. That said, she is a queen in both!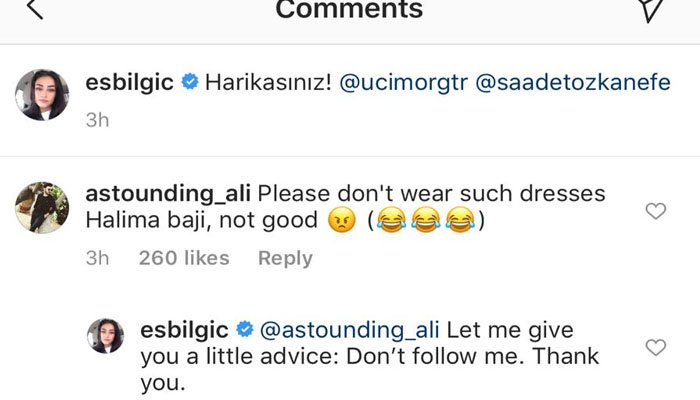 However, besides such trolls, many Pakistanis highly admire her beauty and her acting in the drama series. It is being said these days that Esra has become their crush with whom every Pakistani man is almost ready to marry.
Due to extreme likeness and love for her, many Pakistani brands wanted her to be the brand ambassador and so Q-mobile and Jazz network have made her brand ambassador and the brands Pakistani advertisements are attracting millions of viewers. Her tasting of desi Pakistani dishes video on YouTube by JAZZ got about millions of views.
Now Pakistanis want some other Dirilis Ertugrul's actors to work with Pakistan drama or film industry so that the bond of both countries may get strong.
Image source