Dubai is known to be one of the best places for travel and to celebrate holidays. Every year it has been visited by millions of tourists. The skyscrapers of Dubai attract people from all over the world. You are certainly going to enjoy your trip to Dubai as it is one of the friendliest destination worldwide. However, there are a lot of options and choices while you travel to Dubai. So to help you out, we are going to discuss here some of the best things that you can do while you are planning your trip to Dubai. 
In this blog, I will explain some of the most attractive and beautiful places in Dubai and all the options that you have for fun and enjoyment in Dubai and make your trip an unforgettable one.  
Famous places to visit in Dubai
As we all know, Dubai has a lot of places that are worthy of visiting. Some of them are given below. 
The Burj Khalifa
Burj Khalifa, going to be as one of the most famous places in the world. It is the tallest skyscraper in the world with height of almost 828m. It has been opened for public to visit since the year 2010. Burj Khalifa is known to be the symbol of Dubai. There are large number of restaurants and appointments along with shopping malls in Burj Khalifa. Each day, a large number of visitors visit this tower and enjoy the view of whole Dubai from the topmost floor of the Burj Khalifa. It has total of 150 floors and one can take a lift to go on the top floor. Therefore, from 125th floor, one can surely enjoy the mesmerizing and magnanimous view of Dubai and the city lights.  
Read More: Tourism earnings in the UAE surpass $5 billion in first half of 2022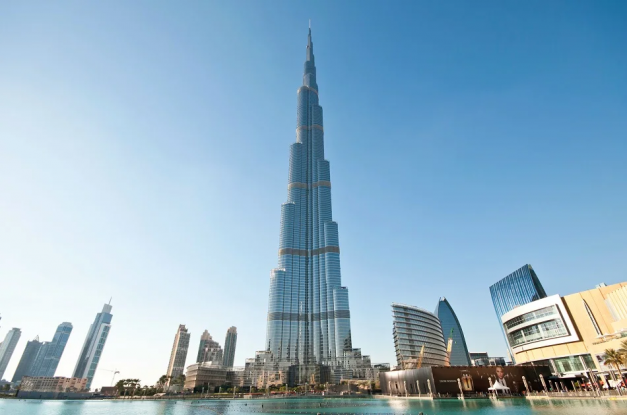 You can further go up to 148 floors and see the higher point of view Dubai from top. At 148 floor its height is about 555 meters. One must visit Burj Khalifa at the night time and enjoy the beautiful and attractive loads of the way from the highest observatory deck in the world. 
If you want to visit Burj Khalifa, you have to book tickets online in advance. This will save your time and you will not have to wait in long queues to buy tickets.  
Furthermore, there is another advantage that you might get tickets at a bit lower price than at the counter. If you are planning to visit to Dubai aquarium as well. You should buy a combined ticket of Burj Khalifa and the aquarium. It will definitely cost you lesser amount of money than buying tickets separately. 
The Dubai Mall
Dubai Mall is located right next to Burj Khalifa. It is one of the largest models in the world and is visited by millions of people from all over the world throughout the year. It has more than 1200 shops and hundreds of different kinds of restaurants. This mall has something to do everyone according to their taste, size and budget. This shopping mall is beautifully built, having indoor waterfall, a beautiful aquarium, go karting track a flight simulator, a beautiful food court, cinemas, arcade games, fun city for children and a lot more.
This mall is open, usually from 10 am until midnight and the food court is usually open until 1 am. Therefore, it is one of the best places to visit in Dubai for shopping lovers as well or just want to do window shopping and enjoy the city life. 
The Dubai Fountain
This fountain is the world's largest fountain and it is one of the most attracted tourist spots in Dubai. There is a beautiful Fountain show that takes place several times a day. It is an artificial lake which is located near the exit of the Dubai mall at the front of Burj Khalifa. If you are planning to go to Dubai, you must not miss this fountain show. The best time to go to Dubai fountain is during night time when whole tower is beautifully illuminated.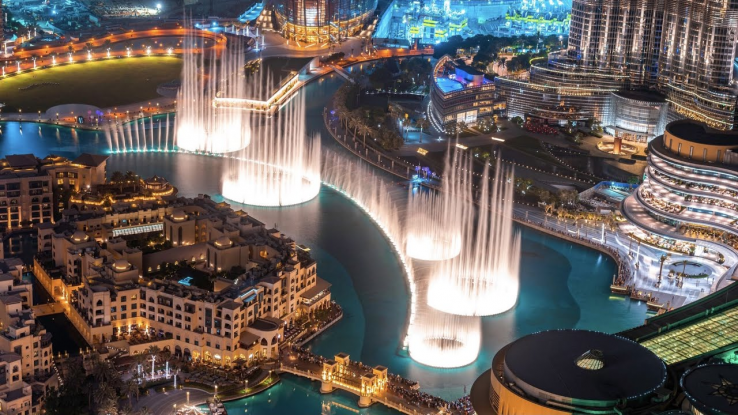 It is mesmerizing and magical to watch this fountain dancing to the music. The show repeatedly takes place after every 30 minutes between 6 to 11 pm. Furthermore, you can watch this Fountain show free of cost. It's better to reach there as soon as possible in order to get the best possible viewpoint as this place attract thousands of people.
Read More: Launching ceremony of 2022 China Tourism and Culture Week held in Beijing
Dera District and Souks
Dera district in Dubai is the old traditional and authentic neighborhoods to visit. Dubai is not all about luxury modern style and access. It's still has some of the old traditions alive. While staying at Dera District you must take a stroll of the beautiful scenes and famous places featuring several souks: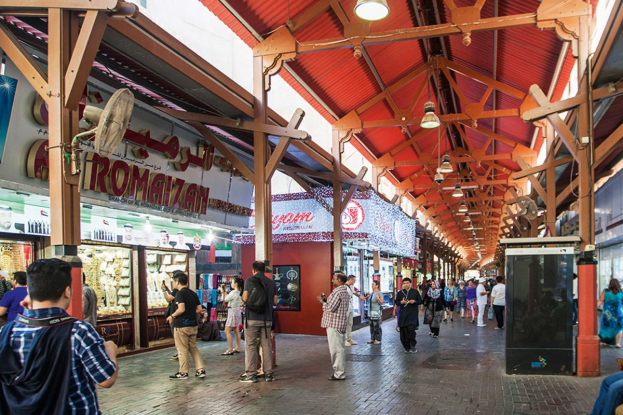 The gold souk is one of the largest and most magnificent jeweler shops in Dubai. It is one of the well-known jobs in the Middle East. 
The perfume souk has huge variety of perfumes including traditional Arabic oudh from wood essence.  
The spice souk has different spices, including saffron, curry, cinnamon and much more. 
Bur Dubai  
Bur Dubai is one of the places that you must not miss while visiting Dubai. It is one of the most famous and oldest places in the city. Bur Dubai is located just opposite to Deira Dubai. To go to Bur Dubai, you have to take the traditional boat which will cost around 1 AED per person. You can see a beautiful view. The old ships which are having bright colors used to supply souks with goods. There are some of the best places that you must visit in Bur Dubai: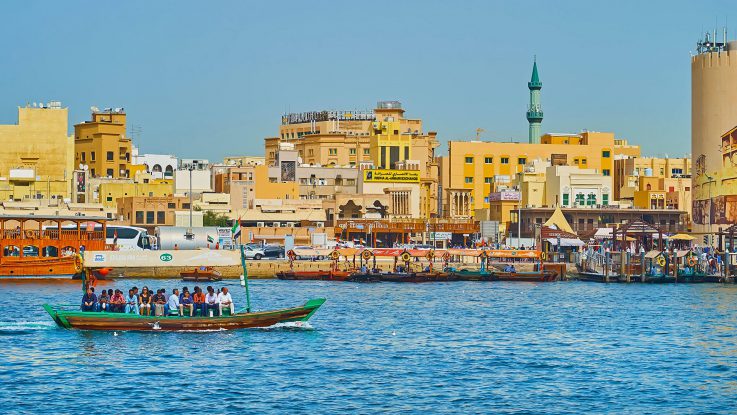 Sheikh Saeed Al Makhdoom house is one of the oldest house of this family until 1958. In this house, there are a lot of documents, photos and portraits documenting the history of the city. 
Meena Bazar as one of the market where you can buy a lot of Indian goods, fabrics, spices, jewellery, and other items from India 
Hindi Lane has many Indian stalls the best place to try traditional dishes at reasonable prices 
Old souk is another place which must be visited. You can find everything from slippers, souvenirs, fabric, decoration, pieces, and perfume from here. 
Alseef market: It has a lot of traditional shops and restaurants in it 
Dubai museum is yet another place that you must not miss. 
Atlantis Hotel the Palm, Jumeirah
Atlantis hotel is one of the well-known travelling places in Dubai. It is one of the most visited places of one visit Dubai. It is located on the artificial island of Palm Jumeirah, and the luxurious architecture of this hotel was inspired by in the middle of Atlantis. It is a man-made island that has been created in the shape of a palm tree, which is quite visible from its aerial view. It has been home to many opulent Sheikhs of Dubai.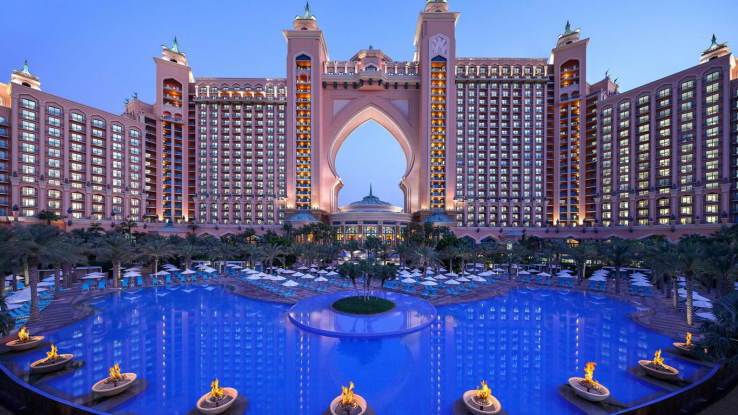 Even if you're not staying at Atlantis hotel, you can go to Atlantis hotel for shopping and four dining in at restaurants. You can enjoy following things: 
Adventure water park: It is Dubai's most famous waterpark, having some of the worlds, best water rides and slides
Lost chambers aquarium has thousands of animals in it and increases the beauty of Atlantis hotel.
Dolphin Bay provides you with the ultimate and unique experience of swimming with the dolphins.
Therefore visiting to Atlantis hotel is never a bad idea. Value visit to Dubai. 
Read More: Pakistan will facilitate Qatar's investments in renewable energy and tourism sectors
Dubai, Marina
Dubai Marina is a big shopping mall in which you have all the international brands such as Levi's, H&M, guess, Balmain and Jimmy Choo etc. You can discover the Dubai marina through cruise on luxury yacht. This will give you a luxurious experience that you will never forget.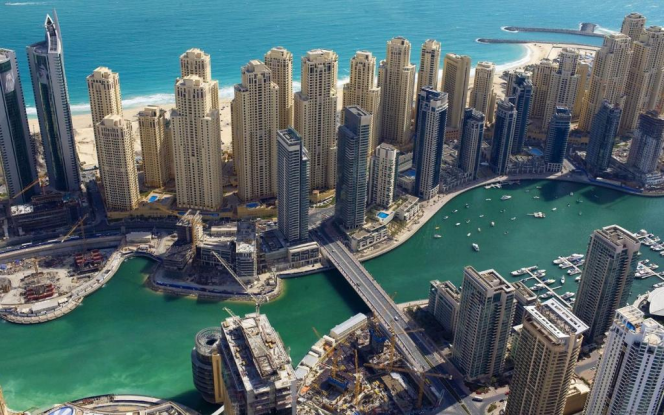 Burj Al Arab
Burj Al Arab is one of the few seven star hotels in the world. However, this hotel is a bit expensive as it is 7 stars. This hotel is not afforded by everyone. However, you can enter the most luxurious and magnanimous hotel of the world for a few hours by reserving yourself, a small lunch or snack or dinner or tea at Burj Arab restaurant. There are different options that you can avail while you visit here:  Snack and tea at the sky blue bar on 27th floor of Burj Al Arab and you can enjoy the view with yummy pancakes and pastries.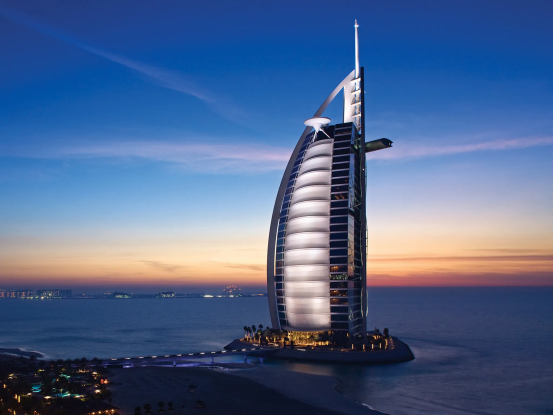 Lunch or dinner at the Al Yam Ball: this beautiful restaurant is located on the ground floor of Burj Al Arab and this offers a breathtaking view of the Persian Gulf. Lunch or dinner at Al Marhaba aquarium restaurant: you can enjoy the stunning experience of tasting different dishes amidst an aquarium by award-winning chefs in the Middle East.  
Dubai Museum
Dubai museum is also known as Al Fahidi Fort. It raises back to the entire history of Dubai. It inculcates all the information from the first tribes who used to live here through the economic boom in nineteen sixties to the future plans for the coming years.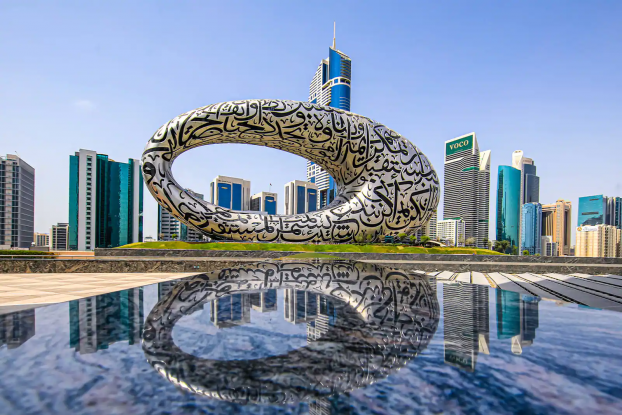 The entrance fee of the museum is three Dirhams, and it is open for public every day, except for Friday morning. The museum has all the old utensils, objects and weapons etc. from nomads of Dubai.  
Dubai Aquarium and Underwater Zoo
Dubai aquarium is located in Dubai Mall. Anyone who get to visit to Dubai Mall can admire one side of the shark aquarium for free. However, they still need to pay if they want to visit the rest of the aquarium. The tickets for the aquarium and underwater zoo also cheaper on the Internet. Therefore, you should buy them online. When you enter Dubai aquarium, you will first enter a tunnel, which is filled with huge sharks and other fishes. After that, you will enter into an underwater zoo, which is located on the second floor. The most beautiful water animal in the zoo is king croc which is one of the largest living crocodiles in the world, with length of five meter and weighing almost 750 Kgs.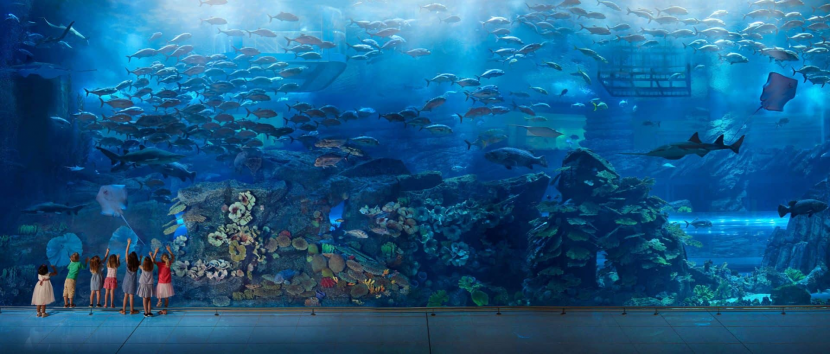 Global Village
If you are visiting to Dubai, you must not skip visiting to global village, where you can discover traditional shops from all over the world. It has reconstruction of the world's famous monuments in it which increases its beauty, for instance, the tower of Pisa, the Colosseum of Rome and Taj Mahal. It has dozens of Pavilion, each of which is dedicated to a different country. Japan, China, Thailand, Pakistan, India, Egypt, and a lot more.  
It has dozens of shops where you can find traditional souvenirs food and other arts and crafts related to that particular country. Global village is huge, and you can visit it in almost 3 hours. It is not present throughout the year, but you can visit here from the beginning of November to the beginning of April. The entrance fee is around 15 Dirhams for a single ticket or 100 Dirhams for wonderpass which has almost all activities included which you can enjoy. 
Read More: German investors express keen interest in Pakistan's tourism sector
It is open for families and children only on Mondays. Therefore, it is the best place to visit in Dubai if you want to enjoy, colorful and unique traditions of the world.  
Parks and Resorts
There are a lot of parks and resorts in Dubai.  
Motion gate, Dubai provides you with movie teamed attractions. 
Bollywood parks Dubai, which is inspired by Indian cinema  
Legoland Dubai has Mini had a representation of Dubai made with lego. 
Level in Dubai has a lot of shopping avenues and restaurants 
Shopping in Dubai
Dubai is a center for shopping in the world. It has a lot of malls and shops.  
Dubai Mall  
Mall of the emirates  
Souks of Dera 
CityWalk  
Outlet village  
Alseef market  
More Activities in Dubai
You can enjoy a lot more activities in Dubai along with all these that are listed above. 
The green planet which is a tropical forest, with its animals and plants 
Tandem parachuting at Palm Jumeirah 
Helicopter flight  
Seaplane which provides a scenic flight over Burj Khalifa and Palm Jumeirah 
Jet Ski tour  
Dinner in the sky 
Fly Board 
Scuba-diving 
Parasailing 
Horse riding in Dubai, National Park. 
Desert Safari
It is an activity in Dubai where you can enjoy a night at the desert with exotic dinner and attractive belly dance. It has other activities including Heena, skin tattoo etc. You are definitely going to enjoy this excursion in the desert. 
Read More: KP approves three Integrated Tourism Zones projects that will cost Rs 12.2 billion
Therefore, these are some of the activities that you must not miss while you visit Dubai. However, Dubai has a lot more options as well which totally depends on your budget and how you plan your trip. I hope this blog is helpful for you in finding out the best things to do while travelling to Dubai.