The Pakistan Air Force (PAF) is one of the most powerful air forces in the world that has proved its strength every now and then with its fighter jets and professional capabilities. According to a report published by the International Institute for Strategic Studies (IISS), PAF has on its team of over 70,000 highly qualified active-duty personnel. It also comprises of at least 970 operational aircraft that provide Pakistan's air defenses.
Main Characteristics of a Fighter Jet: 
Pakistan Air Force use fighter jet planes that are created specifically for air-to-air combat. They have unique aerodynamic designs, advanced arsenals and cutting-edge capabilities. These robust machines have the capacity to hit distant targets in the air or on the ground as well. They have the capacity to fly up to 2,000 kilometers per hour and also can break sound barriers with their advanced ultrasonic capabilities.
List of Fighter Jets in Pakistan Air Force:
Pakistan Air Force (PAF) uses many fighter crafts to combat, list of them is given below:
General Dynamics/ Lockhead Martin F-16 Fighting Falcon
CAC/PAC JF-17 Thunder
Dassault Mirage III
Dassault Mirage 5
Chengdu F-7P/PG (Pakistan F-7)
J-10C Vigorous Dragons Fighter Jets
A detailed review of these fighter jets is discussed below: 
General Dynamics F-16 Fighting Falcon
F-16 Falcon is one of the fastest fighter jets as it has a single engine. F-16 Fighting Falcon has a speed of around 2414 kilometers per hour, which makes it one of the super fastest jets. With its supersonic multirole qualities, it can detect the opponent easily and give tough competition. It was manufactured by General Dynamics, which is a United States based company. This technology was given to Pakistan by USA.
Read More: Pakistan delivers three JF-17 Thunder jets to Nigerian Air Force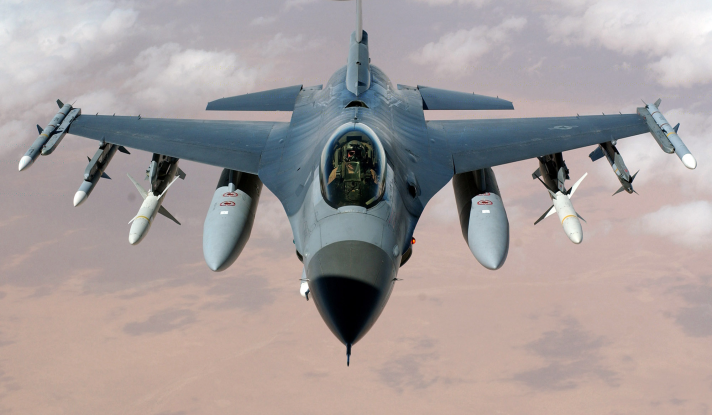 Main Features: 
Key features of F-16 military aircraft are listed below:
Bubble canopy without frame
Side-mounted control stick
Swift flight control system
Up to eleven locations for escalating weapons
Other mission equipment
Multirole fighter
Maximum takeoff weight: 37,500 pounds (16,875 kilograms)
7,000 pounds internal fuel capacity (3,175 kilograms); typical fuel capacity, 12,000 pounds with two external tanks (5443 kilograms)
1,500 mph speed
Ceiling: above 50,000 feet (15 kilometers)
Armament capacity: one M-61A1 20mm multibarrel cannon with 500 rounds
Crew: one or maybe 2
CAC/PAC JF-17 THUNDER
JF-17 Thunder is a fighter plane produced by the joint collaboration of Pakistan and China. JF-17 is light weight having single engine and a capacity to carry 3629kg of payload when it is airborne. It can be used for combat actions on the ground as well as for aerial reconnaissance. It has been designed by Pakistan Aeronautical Complex (PAC) and China's Chengdu Aircraft Corporation (CAC).
Read More: Fifth-generation stealth fighter jet TF-X becomes Turkish-Pakistani project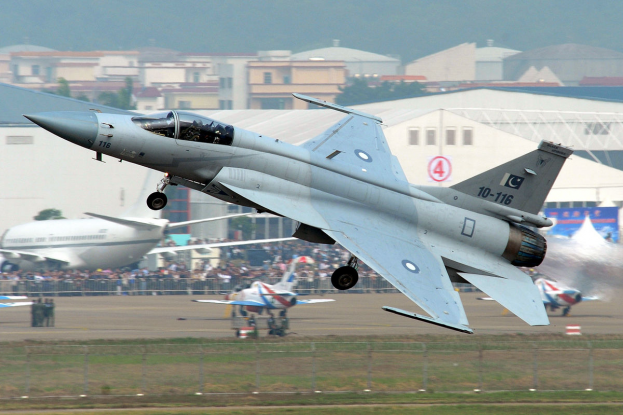 Key Features:
These PAF fighter jets have many features including:
Cockpit with an acrylic canopy
All-around field of view
Hands-on-throttle-and-stick (HOTAS) controls
Zero-zero ejection seat
Autopilot
Auto spin recovery
Auto TEF controls
Active temperature and humidity control
Paddle controlled hydraulic brakes in main gear
Anti-skid braking system
DASSAULT MIRAGE III 
PAF's Dassault Mirage III is another one of Pakistan's finest fighter jets. PAF's Dassault Mirage III is equipped with a high technology flight control system. It has a single engine and can carry only a single passenger; therefore, is a lightweight aircraft. French aircraft company, Dassault Aviation is the maker of this aircraft.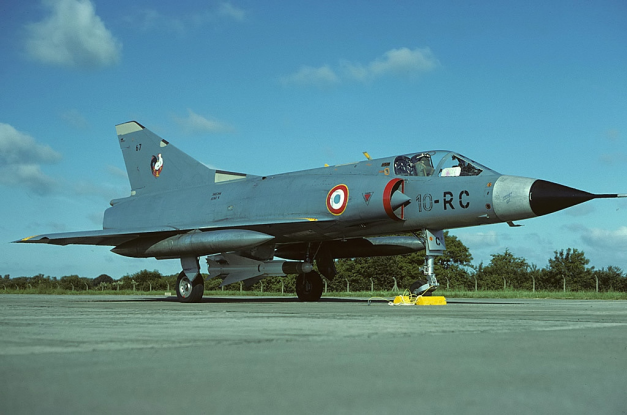 Key Features:
Beyond visual range active missiles
short range missiles with highly agile Imaging infrared
Air to sea missiles
Anti-radiation missiles
Laser guided weapons
Runway penetration bombs
Stand-off weapons
General purpose bombs
Training bombs
23 mm double barrel gun
bubble canopy, for better viewing and targeting
high-tech flight control system having Global Position System GPS
4000 kg of payload when airborne
DASSAULT MIRAGE 5
Dassault Mirage 5 is a supersonic fighter jet having a speed of around 2,350 kilometers per hour. Dassault Mirage 5 is an upgraded version of the Dassault Mirage III. Mirage III and Mirage V fighter jets have quite a similar design. Due to its capability to carry out nuclear warheads, it plays a very important role in the fleet of fighter planes.
Read More: PAF gets latest fighter jets, starts production of next-gen JF-17 Thunder Block III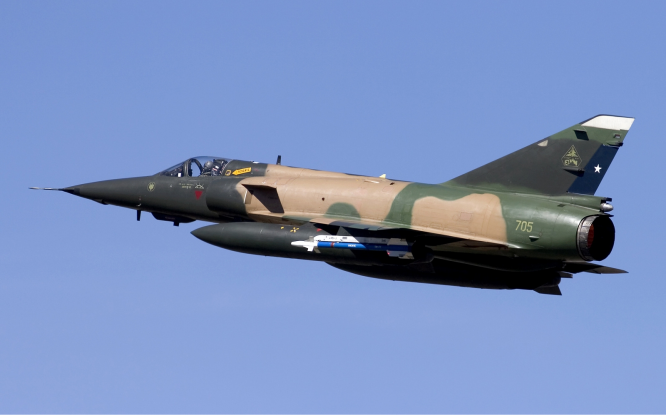 Key Features:
Combat range of 1,250 kilometers
Twin-seater pilot tube
Bubble canopy
Increased fuel storage capacity compared to Mirage III
Pay load of 4000 kg when airborne
J-10C FIGHTER JETS 
The Chinese-built J-10C or Jian-10 fighter jets are the latest addition to the Pakistan Air Force fleet. This is a medium weight aircraft that has a bigger Active Electronically Scanned Array (AESA) Radar compared to the JF-17 Block 3 planes. One of the biggest benefits of this aircraft is that it is appropriate for all weather conditions.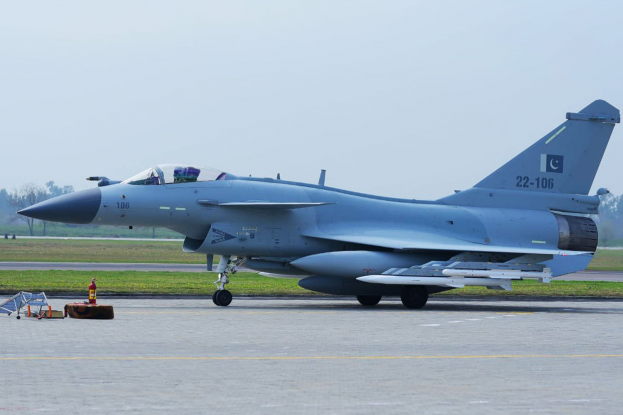 Key Features:
Capability to feature fourth-generation missiles
Equipped with short-range PL-10 and the beyond-visual-range PL-15
Crew member: 1
CHENGDU F-7P/PG 
Chengdu F-7 is crafted with innovative microchip technology and design. Developed by Chengdu Aircraft Corporation (CAC), it is commonly known as Pakistani F-7. It's built and design has been inspired by the famous Russian Aircraft MiG-21 Aircraft. It has a single engine with light weight, which makes it perfect for combat, also it has an advanced avionic system.
Read More: First batch of Chengdu J-10C semi-stealth multi-role fighter jets received from China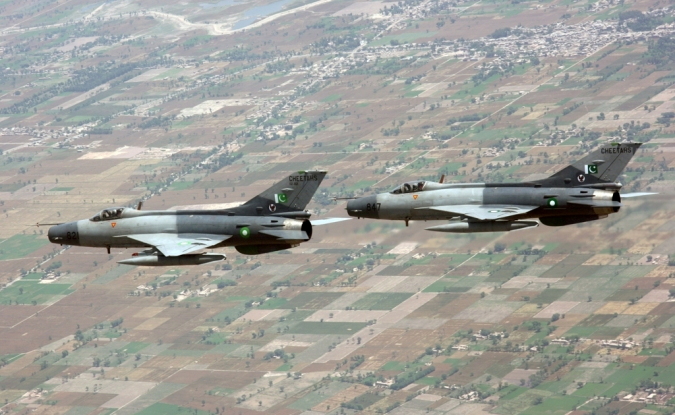 Key Features:
HUDWAC technology – GEC-Marconi Avionics Head-Up Display and Weapon Aiming Computer
Bombing navigation
Global positioning systems GPS
Payload of up to 2,000 kg when airborne