Kalash is a valley within the remote area of Pakistan (northwest) which is as beautiful as its name. Besides its scenic beauty, the fair-skinned, blue-eyed people adds to the charisma even more. This valley is worth visiting and every year thousands of people visit Kalash Valley during festival season as well as around the year. Tourists from all over the world visit this place for documentaries and for experiencing the unique culture and traditions of Kalash valley.  
History Of Kalash
Kalash people are known to be the descendants of Alexander during the 3rd century. Kalash is a tribal community whose DNA study shows that they belong to descendants of Alexander or Macedonian people from Greek History. Anthropologists from all over the world performed many experiments on the origins of Kalash Valley and it also showed that they have European ancestors. However, the perfect origin continues to be a mystery owing to their white skins and colorful eyes. The population of this area is around 5,000 people. The people of Kalash live happy and simple life with rustic lifestyle. They don't have access to modern life amenities and use the sun as a substitute for electricity or gadgets. Due to lack of basic amenities, life is hard and that they sleep in shacks. The winter period in Kalash is extremely long and extreme. 
However, it is best to visit this valley during normal season. The weather is ideal and therefore the people are beautiful with unique and attractive features.  
Read More: Pakistan provides high standard facilities to international tourists
Culture and Traditions of Kalash Valley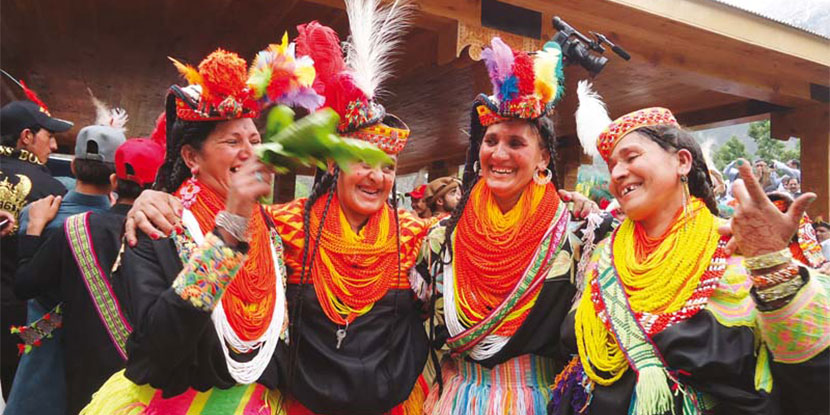 The residents of the valley are the Kalash people, who have a unique cultural values, language and follow a form of ancient Hinduism which is unique and followed only by people of this region. As such, the Kalash Valleys are a source of attraction for Pakistanis as well as International tourists. They wear unique dresses which are black in color and beautifully embellished headpieces. Their dresses are also covered with beautiful colorful embroidery which is handmade. Most of the women make braids and wear metal jewelry along. They use their own specially made skincare products. These skincare products are made from hooves of cows and goats which keep their skin beautiful and ever-lasting.  
Kalash People Religion
Kalashi people are the smallest ethnic and religious minority of Pakistan with over 5,000 population. They are religiously polytheists and they were over 200,000 of them, but over the decades their numbers have decreased to 3000–5000 owing mainly to forced conversions to other religions and persecution. Many people of Kalash have converted to Islam on their free will and after conversion they are not allowed to remain a part of Kalashi community. The people of Kalash are hospitable and attracts a lot of people from all over the world.  
Valleys of Kalash
Kalash are the only pagan minority residing in the Chitral district of the province of Khyber Pakhtunkhua (KPK). They form the smallest minority community in the Islamic Republic of Pakistan with a handful of population. The Kalashas live in three valleys of Chitral which are: 
The culture of Rumbur and Brumbret is very similar to each other while Birir being the most traditional one forms a separate culture. 
Read More: 30,245 tourists visited different scenic spots of Khyber Pakhtunkhwa in single day
Visit Kalash Valley In Pakistan
Kalash Valley is located at a distance of 40 Kilometers from Chitral, along the Pakistan-Afghanistan border, at an elevation of 1,670 meters. The traditions, customs, and culture of Kalash Valley vary strikingly from the rest of Pakistan. It is also known as "Kafiristan" by some people as the religion followed in the majority of the valley is not Islam but a form of Animism and ancient Hinduism.  
Famous Tourist Spots
The most fascinating reason of tourism in Kalash valley are its famous and unique traditional festivals.
Birir 
Birir is a very beautiful small valley some 45 Km from Chitral at a distance of 2 hours' drive on a bumpy dirt road. They valley has fewer shady meadows is not so open. This valley is the hottest and grows the best grapes. It's rarely visited by the tourists, so if one desires to enjoy the raw pagan culture of Kalash, especially for anthropologists and photographers, they should visit the valley.
Rambur 
It is a small valley in Chitral in Kalash Region and it places where Kalash People Live in Chitral District of Khyber Pakhtunkhwa. People here speak Dardic Language. Rambur valley is rugged and majestic; the mountain ridges higher, the river much wilder. At the very top end of this valley, there is a Nuristani village where people have Red hair with same Armenian features and language.  
Bamburet 
Bumburet is the largest of the three valleys of Kalash. It has sparkling streams, shady meadows, apricot and walnut trees, wide mountain ranges and yellow and green fields making it the most beautiful valley of Kalash. There is a Nuristani village at the top end of the 9-mile valley.  
Read More: Chitral emerges as the most popular destination for foreign tourists
What Is Kalash Valley Famous For? 
The Kalash religion is famous for their unique culture and very different kinds of festivals that take place every year in Kalash valley like Shandur Polo Festival. Furthermore, the religion belief of people living there is polytheist similar to ancient forms of Hinduism and the people offer sacrifices for their gods. Their culture is intertwined with their religion and includes many unique festivals and celebrations.
Their graveyard is also worth visiting which shows their unique ways of burying their loved ones and how they normally celebrate the death with dancing and singing.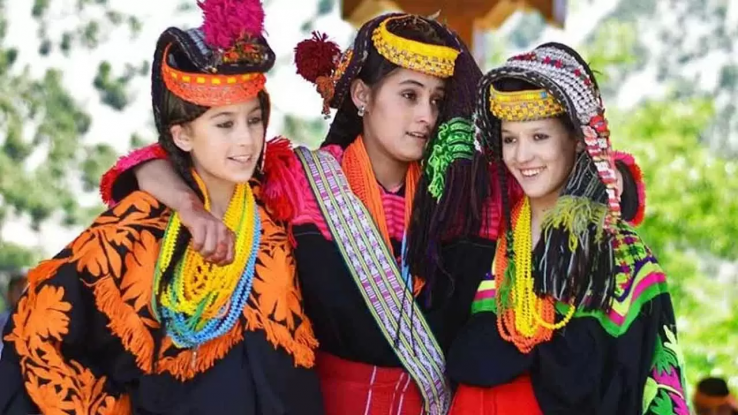 Famous Kalashi Festivals
Some of the famous festivals celebrated in Kalash are:
Kalash Festival – Chilam Joshi (Spring)
The Chilam Joshi Festival is one the most vital Kalash festivals which is celebrated in spring season.  This is a four day festival that is celebrated in all three valleys of Kalash such as Rumbur, Bumburet and Birir. A large number of domestic and foreign tourists visit and attend the Chilam Joshi festival every year.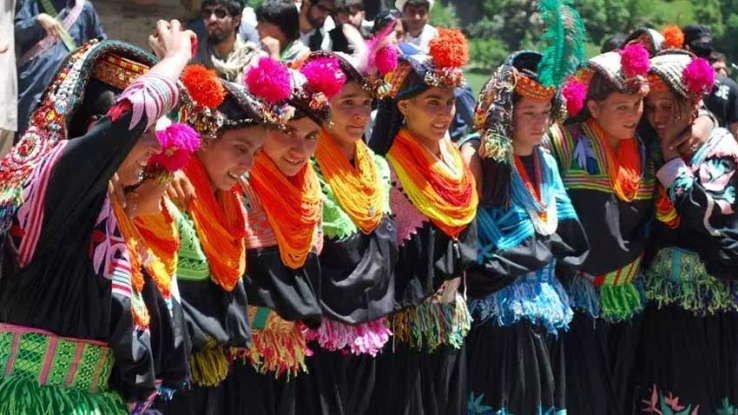 Milk Day in Kalash
It starts with "Milk Day". The Kalasha people start storing milk from their households ten days before the festival. On the day of the festival the people of Kalash offer their potion and enjoy it with the milk that is collected. This particular festival signifies their unique cultural richness, the harmony in their society and message of peace to the world. During this festival, they ask for benediction from the God and pray for a flourishing year of agriculture, health, safety and well-being.  
Marriage 
During the festival, Kalash's men and women can find themselves a spouse to get married. Every year this festival brings opportunities for bachelors and spinsters of Kalash Valley tribes to choose their life partners and reveal their names on the last day of the festival. 
Dresses
The women wear traditional kalashi attire with lively colors and hair pieces have patterns of flowers on it. They wear beaded necklaces which compliments their dresses and head gears along with metal jewelry which enhances the beauty of their cultural attire. 
Men wear customary dress Shalwar Kameez with a waistcoat made of wool. They dance and sing together in groups in a circle on drum beats.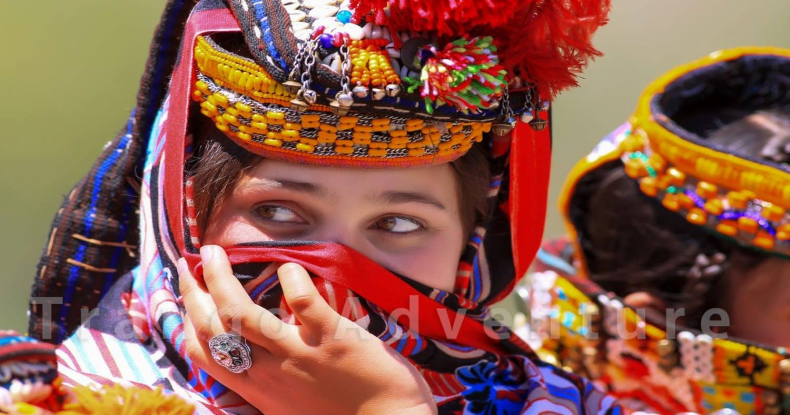 Kalash Festival: Uchal (Summer)
Uchal, is a festival that is celebrated during summer season in Kalash. To celebrate the festival, corn, buttermilk and cheese are prepared.  
People of Kalash parade to a high plateau which is located outside to the village in Balangkuru and they pray to the God and dance during the festival.  
Kalash Festival – Choimus (Winter)
Beginning with the winter solstice, Kalash festival of Choimus holds great importance among the Kalasha people. Choimus, also known as Chitirmas, Chaumos is a Kalashi festival celebrated during the winter season. It is observed annually and symbolizes and forecasts prosperity of the village and its people in the coming year. The local people of Kalash perform rituals for purification during the festival at the dawn of the New Year.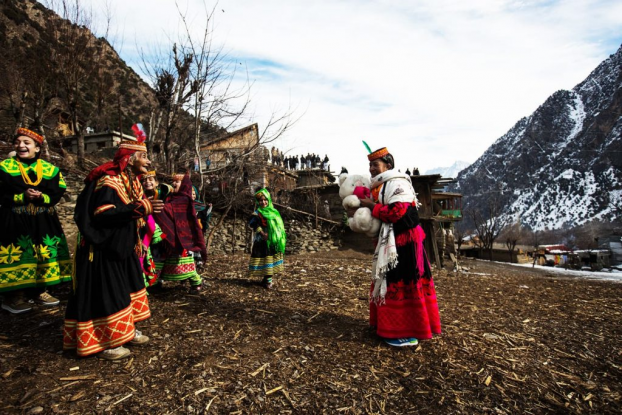 Read More: Tourist influx on rise at scenic spots of Khyber Pakthunkhwa's northern areas
During the festival, people go out in groups to seek foxes which are a good omen to sight at this time. At the end of procession, traditional dance is done at a place called a "Charsue".  
People then watch the New Year sun rising followed by the goat sacrifice made to the Goddess, "Jastak", and the blood is sprinkled at the temple Jastarkhan. That is how, Choimus festival is celebrated.  
Therefore, Kalash valley has unique cultural and traditional values and it attracts a lot of people from all over the world. It adds to the beauty of Pakistan and accepted as one of the most strikingly unique area to visit in Pakistan. So, one must visit this beautiful valley full of historical and cultural values and enjoy the scenic beauty of this mesmerizing valley in Pakistan.