Pakistan came into being on 14 August 1947. The Islamic Republic of Pakistan, located in South Asian region. Population wise, it is the fifth most populous country of the world. Pakistan has the honor of being the only nuclear power in the Muslim world. Pakistan has a rich multiplicity of landscapes, beginning in the northwest, from the sky-high Pamirs and the Karakoram Range through a network of mountain ranges, a complex of valleys, and inhospitable plateaus, fertile Indus River plain, which drains into the Arabian Sea on the southern side.
This beautiful country has some of the most important passes, a section of the ancient Silk Road and the Khyber Pass, the well-known passageway that has brought outside influences into the otherwise isolated subcontinent. It has some gigantic skyscraping peaks such as K2 and Nanga Parbat, in the Pakistani-administered region of Kashmir, which attracts a lot of mountain climbers from all over the world. It has one of the world's oldest civilizations called Mohenjo-Daro and Harappa alongside the Indus River.
Furthermore, it has rich cultural and ethnic diversity. It has the most diverse population residing in it. People here speak many different languages. Therefore, as a whole Pakistan is a country, located in the heart of South Asia and has a wide range of tourism places, languages, ethnicities, cultures, and religions. 
Strategic Importance of Pakistan 
Pakistan is an important country due to its location. It provides a link between South Asia, West Asia and Central Asia, away from developed countries to developing countries with respect to trade and other strategic matters. Through its Gwadar port, Pakistan provides a transportation route which is of great significance for Asia. The China Pakistan Economic Corridor is also a way forward in uplifting the economic relations of South Asian region. Furthermore, Afghanistan being a landlocked country uses route through Pakistan for trading through Torkham Border.
Read More: Gender Equality And Women Empowerment In Pakistan – About Pakistan  
Geo-Strategic Importance and Boundary with Afghanistan 
Pakistan is located in south Asia. The total estimated area of Pakistan is about 803,940 square kilometers. Afghanistan is located in the Northwestern part of Pakistan. Pakistan's shares a boundary of 2,250 kilometers long with Afghanistan. This boundary line between Pakistan and Afghanistan is known as Durand Line. Durand line runs along the Hindu Kush Mountains and the Pamirs, where a thin strip of Afghan territory called the Wakhan Corridor extends between Pakistan and Tajikistan. Therefore, it acts as a trade route from Central Asian regions to Arabian Sea.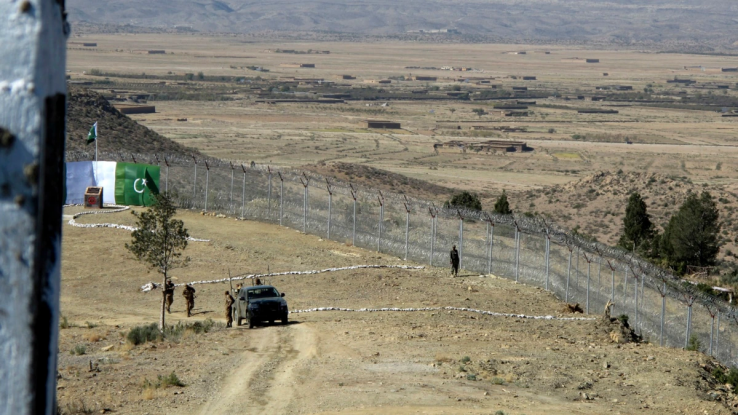 Azad Jammu Kashmir and Northern Areas of Pakistan 
Kashmir is located in the northeastern part of the country. It has area round about 84,159 square kilometers. Azad Kashmir has an area of 11,639 square kilometers, whereas Northern Areas have an area of around 72,520 square kilometers, which includes Gilgit and Baltistan. This Northern strip of Pakistan has unprecedented scenic beauty and is attracted by tourists from all over the world. It has five highest mountains of the world, including K-2 also known as Godwin Austin, second highest mountain in the world with a height of 8611 meters. It also has some of the renowned glaciers, including Biafo, Baltoro, Haispar and Siachen etc. Due to all these factors, this area of Pakistan is sometimes called as "Third Pole".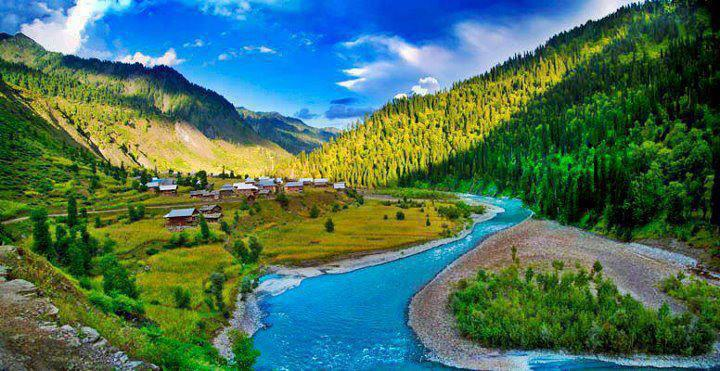 Pakistan Boundary with China 
China, the emerging superpower, shares a border of about 438 kilometers with Pakistan, ending near the Karakoram Pass. This line was determined from 1961 to 1965 in a series of agreements between China and Pakistan. Karakoram Highway is also known as Silk Highway is present, which connects China to Pakistan, constructed by both China and Pakistan regarding trade. CPEC is another prospect that has predicted to bring prosperity in the region. CPEC is initiated by China and is a part of Belt and Road Initiative (BRI) project of China which has more than 40 countries collaborating together. Pakistan and China have also shown cooperative in Defense. Together, both the countries manufactured a famous fighter Jet plane called Jf17 Thunder. Their friendship can be summed up by the famous quote: "Pak-China friendship is higher than Himalayas, deeper than oceans."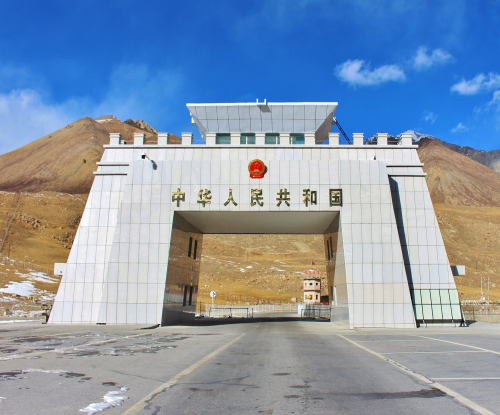 Read More: Pakistan and Emerging Markets In The World Economy – About Pakistan
Pakistan Boundary with India 
India is located on the eastern side of Pakistan. The border between India and Pakistan is locally known as the International Border (IB). It is the international boundary between India and Pakistan that delimits the Indian states of Punjab, Rajasthan and Gujarat on eastern side from provinces of Punjab and Sindh. This border is the result from Partition of India in 1947. 
Another boundary is the Line of Control (L.O.C), splitting The Indian occupied Jammu and Kashmir from Pakistan administered Azad Kashmir. The total length of LOC is 700 kilometers.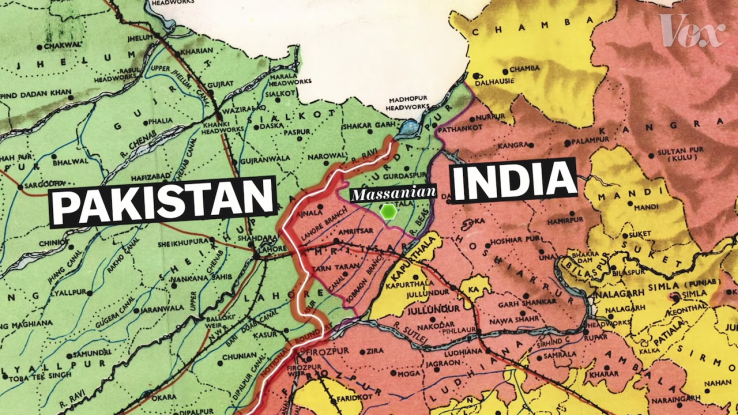 Pakistan Boundary with Iran 
Pakistan shares a boundary of around 909 Kilometers with Iran. This boundary was first delimited by a British commission in 1893, separating Iran from what was then British Indian Baluchistan. After independence, in 1957 Pakistan signed a frontline agreement with Iran. Since the agreement, both the countries have not been a part of any serious border skirmishes.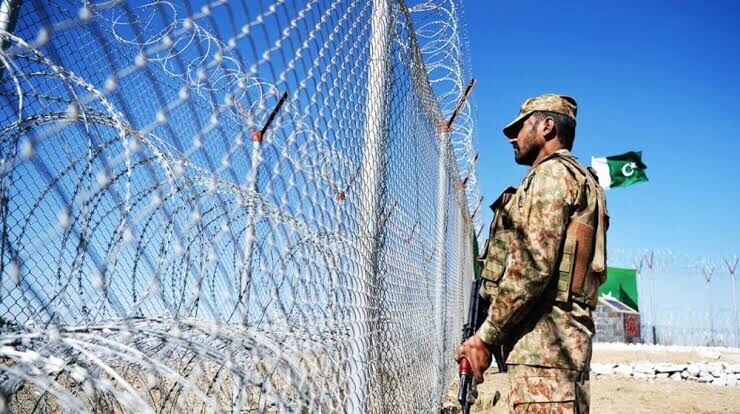 Arabian Sea and Indian Ocean Region to the South 
Arabian Sea and Indian Ocean are located to the south of Pakistan. Pakistan has a coastal belt of around 1050 Kilometers. Pakistan is located near Persian Gulf from where 65% of world's oil is produced. This makes it a significant country location wise. Trading is aided through Pakistan to a large extent making it an important country for economic prosperity of other nations.  
Youth Bulge of Pakistan 
Pakistan is a country with a youth bulge. It has almost 221 million population, making it the fifth most populous country of the world. In Pakistan, around 63% of the total population is between age 15 and 33. This greater proportion of youth bulge is usually a boon for country's economic situation. But if not utilized in a good way this can also be a bane. However, in Pakistan due to continuous inflation and crippling economic conditions, the country's youth bulge is unable to perform to their fullest and provide economic assistance to the country.
In Pakistan, the unemployment rate is around 8.5%, which is one of the highest in the region. It has the lowest female labor force participation (FLFP) in South Asia. Nonetheless, Pakistan is amongst the top five countries in the world in freelancing and generated a significant amount of $2 billion entirely from freelancing. Therefore, with more job opportunities and economic opportunities, Pakistan's youth bulge can bring this country on the way to eternal prosperity.  
Pakistan: The Only Nuclear Power in the Muslim World 
Pakistan is the only nuclear power of the Muslim World. It has strong resilient army and courageous nation. Entire Muslim world feel proud of Pakistan for its nuclear capabilities. Pakistan acquired Nuclear power on 28th May, 1998 and tested its first nuclear weapon at Chaghi in Baluchistan. Due to nuclear status of Pakistan, every victim and oppressed Muslim from Palestine to Kashmir looks towards Pakistan in a state of distress, and Pakistan has always helped them in the time of need. Therefore, Pakistan being the only nuclear power in the Muslim world has improved its overall significance in the Muslim world.
Furthermore, Pakistan is also having a nuclear hostile neighbor on its eastern border and nuclear abilities of Pakistan has reduced the risk of nuclear skirmishes to a great level between the two. So, nuclear abilities of Pakistan have helped it a lot to achieve the status it has today in the world. Currently, Pakistan has currently six operable nuclear reactors. These nuclear reactors are:  
Read More: Beautiful Architecture of Pakistan – About Pakistan
| | | | | | | |
| --- | --- | --- | --- | --- | --- | --- |
| Reactor Name | Alternative Name | Model | Reactor Type | Net Capacity (MWe) | Construction Start | First Grid Connection |
| CHASNUPP-1 | Chashma Nuclear Power Plant 1 | CNP-300 | PWR | 300 | 1993-08 | 2000-06 |
| CHASNUPP-2 | Chashma Nuclear Power Plant 2 | CNP-300 | PWR | 300 | 2005-12 | 2011-03 |
| Chashma Nuclear Power Plant Unit 3 | Chashma Nuclear Power Plant 3 | CNP-300 | PWR | 315 | 2011-05 | 2016-10 |
| Chashma Nuclear Power Plant Unit 4 | Chashma Nuclear Power Plant 4 | CNP-300 | PWR | 313 | 2011-12 | 2017-06 |
| K-2 | Karachi 2 | HPR1000 | PWR | 1,014 | 2015-08 | 2021-03 |
| K-3 | Karachi 3 | HPR1000 | PWR | 1,014 | 2016-05 | 2022-03 |
Pakistan is an Agrarian Country
Pakistan is an agrarian economy with almost 70 percent of the population depends on agriculture for its livelihood. Pakistan's soil is perfectly suited for agricultural activities. Agriculture accounts for roughly 25 per cent of country's GDP, and Pakistan is among the world's top producers of wheat, cotton, sugarcane, mango, dates, rice and oranges. Furthermore, Pakistan has largest canal based irrigation system in the world.  
Pakistan has Fifth Largest Army in the World
Pakistan army is 5th largest and 10th most powerful army in the world. According to GFP review of 2021, Pakistan Armed Forces scored 0.2083 with 0.000 being the perfect score. Pakistan has taken a huge jump of five places, leaving behind Israel, Canada, Iran and Indonesia.  
Read More: The Evolution of Pakistani English language – About Pakistan
General Facts About Pakistan 
Old name of Pakistan International Airlines (PIA) was Orient Airways. The airline was nationalized on January 10, 1955. PIA also holds the triumphant record for shortest flight time between Karachi and London in 1962. The aircraft finished the flight in 6 hours 43 minutes 55 seconds. 
The 'Khewra Salt Mine' located in Jhelum, Pakistan is the second largest and oldest salt mine in the world. 
National bird of Pakistan is Chakoor/ Partridge. 
National animal of Pakistan is Markhor. 
National flower of Pakistan is Jasmine. 
National dress of Pakistan is shalwar kameez. 
National juice of Pakistan is Sugarcane Juice. 
National language of Pakistan is Urdu. 
National tree of Pakistan is Deodar. 
National airline of Pakistan is PIA. 
National poet of Pakistan is Allama Iqbal. 
National fruit of Pakistan is Mango. 
National fish of Pakistan is Mahseer. 
National mountain of Pakistan is K-2. 
National vegetable of Pakistan is Ladyfinger. 
National river of Pakistan is Indus. 
National predator of Pakistan is Snow Leopard. 
National mausoleum of Pakistan is Jinnah Tomb. 
National leader of Pakistan is Muhammad Ali Jinnah. 
National sports of Pakistan is Hockey. 
National mammal of Pakistan is Indus River Dolphin. 
National colors of Pakistan are white and green. 
National song of Pakistan is National Anthem. 
National motto of Pakistan is Unity, Faith, and Discipline. 
Mother of Pakistan is Fatima Ali Jinnah. 
National monument of Pakistan is Pakistan Monument Shakarparian. 
The daff is a large Persian frame drum used in popular and classical music. The frame is usually made of hardwood with many metal ringlets attached, and the membrane is usually goatskin. Daf is mostly used in Arabia, Egypt, the Levant, Iraq, Azerbaijan, Iran, Armenia, Turkey, Pakistan and Afghanistan. 
National dish of Pakistan is Biryani. 
The Teen Talwar (Three Swords) monument is located in Clifton, Karachi, Sindh is the national icon of Pakistan. 
Faisal masjid is the national masjid of Pakistan. 
National Library of Pakistan is located at Constitution Avenue, Islamabad. It was inaugurated in 1993. It also serves as cultural centre of Islamabad and a working place for Scholars and students. 
Guava is the national fruit of winter of Pakistan during winter season. 
National Tower of Pakistan is Minar-e-Pakistan. Minar-e-Pakistan ("Tower of Pakistan") is a public monument located in Iqbal Park, which is one of the largest urban parks in Lahore, Punjab, Pakistan. The tower was constructed during the 1960s on the site where, on 23 March 1940, the All-India Muslim League at the time of British colonial rule over British India passed the Lahore Resolution. 
National Day of Pakistan is 23rd March. Pakistan Day is a public holiday in Pakistan to remember the Lahore Resolution on March 23 each year. The word "Pakistan" was never used, but the Lahore Resolution is considered a major milestone in the Muslim struggle for an independent state in undivided India. 
Lahore Resolution is the National Document of Pakistan. The Lahore Resolution commonly known as the Pakistan Resolution was a political resolution drafted from 22nd to 24th March 1940, by the 25-member Working Committee of the All India. This resolution asked for greater Muslim autonomy within British India. However, later on, most people thought of this as a call for a separate Muslim state, Pakistan. The resolution was presented at Minto Park in Lahore, by Maulvi A.K. Fazlul Huq on 23 March 1940. 
25% of total area of Pakistan is under agricultural cultivation. Pakistan irrigates almost three times more land area than Russia. 
Pakistan has the largest man-made forest called Changa Manga.  
Jahangir Khan, a former World No. 1 professional squash player belongs to Pakistan. He won 555 matches between 1981 and 1986. 
MM Alam, late Air Commodore from Pakistan, has shot five planes in less than a minute during the Indo-Pakistani War of 1965. 
Pakistan is so far the only nation in the world to get established on the basis of a clear ideology and a 'Religion'.  
Gwadar port is the largest deep sea port in the world, located on the southwestern Arabian Sea. It has an area of 64,000 square meters and has a depth of more than 14 meters. 
Benazir Bhutto became the first female Prime Minister of Pakistan, and of any Muslim nation in the world. 
The Badshahi Mosque is one of the world's largest mosques. Its construction was ordered by the Mughal emperor Aurangzeb in 1671 and it was completed in 1673. 
Pakistani intelligence agency ISI is considered the best intelligence corps in the world, even better than the CIA. 
Pakistan's missile technology is one of the best in the world. 
Pakistan's Edhi Foundation runs the world's largest volunteer ambulance service. 
The highest polo ground in the world is located in Shandur, Pakistan. 
The youngest Nobel Laureate, Malala Yousafzai belongs to Swat Pakistan. 
Tarbela Dam is the largest earth-filled dam in the world, and also the largest dam by structural volume. 
Sialkot produces over half the world's footballs, making the country world's largest producer of hand-made footballs. The official footballs in the last two FIFA World Cups were manufactured in Pakistan. 
Read More: Pakistani Famous English Novelists – About Pakistan