While her fans are rejoicing that Esra Bilgic is going to be the next Q Mobile brand ambassador, actor Yasir Hussain has shown some reservations.
Dirilis Ertugrul series has won everyone's heart in Pakistan and people are admiring everything about the drama. Esra Belgic as Halime Hatun has become even more popular after she has shown interest in visiting Pakistan.
Meanwhile, many renowned brands are in an effort to rope her in as their brand ambassadors. Miss Belgic also announced that she will be working with the top three brands in Pakistan and soon the news was revealed that she is working with Q Mobile as their brand ambassador.
Actor Yasir Hussain who previously raised his voice over PTV airing Dirilis Ertugrul now spoke against this new reveal. Taking to Instagram he asked a question and wondered why Bilgic has been made a brand ambassador for a Pakistani brand.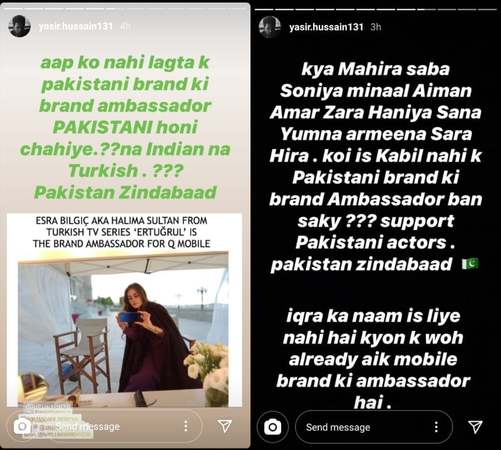 Yasir Hussain asked on the Instagram platform, "Don't you think a Pakistani brand should have a Pakistani ambassador? Not Indian or Turkish? Are no one among Mahira, Saba, Soniya, Minaal, Aiman, Amar, Zara, Haniya, Sana, Yumna, Armeena, Sara, Hira worthy enough to be a brand ambassador for a Pakistani brand? Support Pakistani actors. Pakistan Zindabad, I didn't take Iqra's name because she is already a mobile brand ambassador."
Like every time before, the comments of Yasir Hussain about Esra Bilgic soon became the topic of conversation on Twitter, and this time the reception was mixed as there were some who agreed with him.
However, the nation is still very excited to meet Esra Bilgic and many other series' characters. And as the news may come she is going to advertise many other brands and she also hinted on becoming the brand ambassador of the Peshawar Zalmi PSL team.
Image source link