Dirilis Ertugrul's female lead Esra Bilgic as Halima Hatun turned to Instagram and shared the photo of the Islamia College Peshawar with the caption "The City of Flowers" that is making netizens speculating whether she is in Pakistan or is planning to visit soon.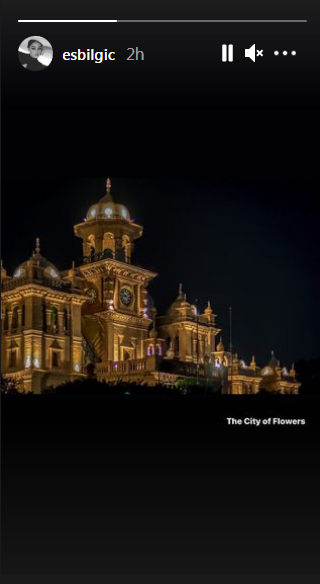 She, with the same caption, posted the same photo on twitter which has extraordinarily stimulated the attention of her fans and twitterverse.
The City of Flowers. pic.twitter.com/N2HnVrzj0c

— Esra Bilgiç (@esbilgic) January 19, 2021
Turkish series Dirilis Ertugrul has made a special corner in Pakistanis hearts. The leading character of this series Halima Hatun is one of the most liked and love characters. Pakistanis are in love with her elegant style and acting she did in all series.
This time, the whole of Pakistan is perplexed by her social media posts that may suggest she is on a visit to Pakistan. Meanwhile, according to some reports, Esra Bilgic will be a brand ambassador for Peshawar Zalmi in the sixth season of the Pakistan Super League (PSL), however, it is premature to say whether she will arrive in Pakistan for PSL or not.
Interestingly, the same lines of Esra tweet were immediatly tweeted by Javed Afridi, chairman of Peshawar Zalmi, which is making her fans all curious.
THE CITY OF FLOWERS

— Javed Afridi (@JAfridi10) January 19, 2021
Even though the news has not been confirmed yet, fans are quite excited to see her. In the past few months, many Turkish actors from the historic drama series have visited Pakistan.
Moreover, in the show, Bilgic plays the leading role of Halime Sultan, the wife of Ertugrul. PTV began airing a dubbed version in April. This Turkish drama has created all sorts of news in Pakistan ever since. It has been quite a while since both the show and the actress have been making headlines.
Not only in the local news but also on social media, with fans wishing for her to appear in the Pakistani productions.