In an unprecedented twitter hack, twitter accounts of many top names including those of Barack Obama, Elon Musk, Apple, Kanye West, Jeff Bezos and Bill Gates were seen tweeting Bitcoin scam tweet to millions of followers.
Twitter says a total of 130 accounts were targeted in the major cyber-attack of celebrity accounts on July 15.
Soon after the security hack, Twitter initially responded by locking down all twitter accounts with blue ticks. Twitter said it was still trying to investigate if private data, which could be draft tweets, direct messages, were stolen.
"We're working with impacted account-owners and will continue to do so over the next several days," the company said, through its official support account.
"We are continuing to assess whether non-public data related to these accounts was compromised," it added.
The FBI is also now investigating the major twitter hack.
What happened?
On 15 July, a number of Bitcoin-related accounts began tweeting what appeared to be a simple Bitcoin scam, promising to offer double of any Bitcoin payment sent to the address of his digital wallet for the next 30 minutes.
Then, the apparent Bitcoin scam spread to mainstream celebrities, billionaires and politicians such as Kim Kardashian West, Jeff Bezos, Elon Musk, Bill Gates, former US President Barrack Obama, Apple and Uber.
From official accounts, the same request was made in order to donate in the cryptocurrency and doubling the Bitcoins sent to a given address.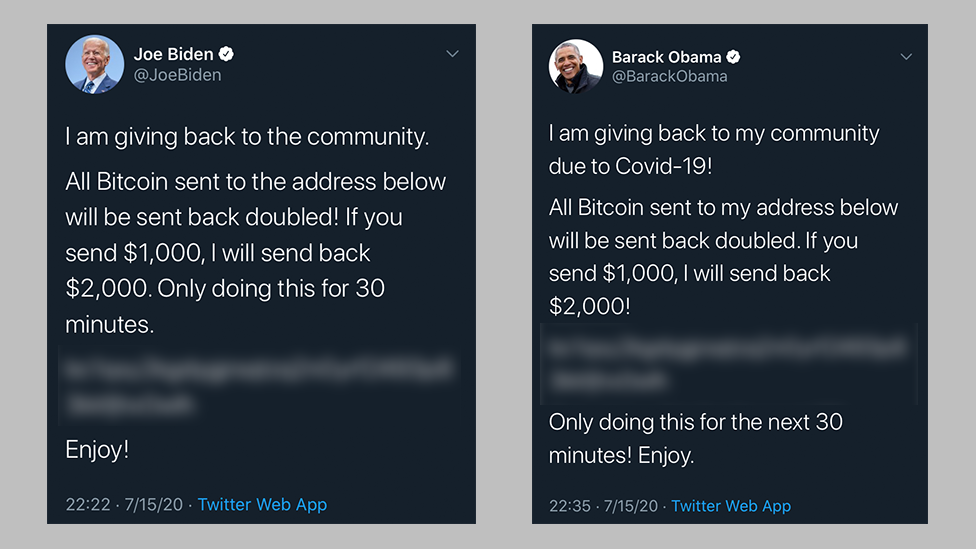 According to Twitter, the attack was synchronized that targeted its employees using special access to core systems and tools. The hackers used this access to control high profile Twitter accounts and even tweeted on their behalf.
Jack Dorsey the Chief Executive of Twitter said in a tweet that this was a tough day for all of them at Twitter and they feel "very terrible" this happened.
Emergency Response after Twitter Hack
After the hit, Twitter immediately took some steps in order to secure verified accounts by limiting blue tick marks accounts from tweeting at once. Password change request was also denied by Twitter along with restricting some other features.
"I'm feeling generous due to COVID-19" and underneath there was a Bitcoin address. The tweet got deleted within minutes after posted. But then another Tweet appeared with the same context which lead to many more.
Singer Kanye West, reality TV host Kim Kardashian, former US President Barrack Obama, former US Vice President and current Presidential candidate Joe Biden, the media giant Mike Bloomberg, ride-sharing service UBER and Apple were among the total 130 those who got targeted by hackers.
Read about Hackers are posing as Zoom, Google Meet and Microsoft Teams to steal information here
Image source link