According to the census 2021, England and Wales are now minority Christian countries as the census revealed that there was a 5.5 million (17%) decline in the number of people who described themselves as Christians. In terms of percentage Christians have dropped by 13.1. The findings of ten yearly census that was carried out in 2021 came out over a month ago soon after Rishi Sunak, became the first Hindu prime minister of Great Britain.
As per the results, 37.2 percent of people making up around 22.2 million people declared that they had "no religion" and it was the second commonest response after Christian. Meanwhile, rapid growth in the Muslim population has been recorded and stood at 3.9 million or 6.5 percent rising from 4.9 percent in the last decade. Similarly, the Hindu population rose from 0.8 to one million.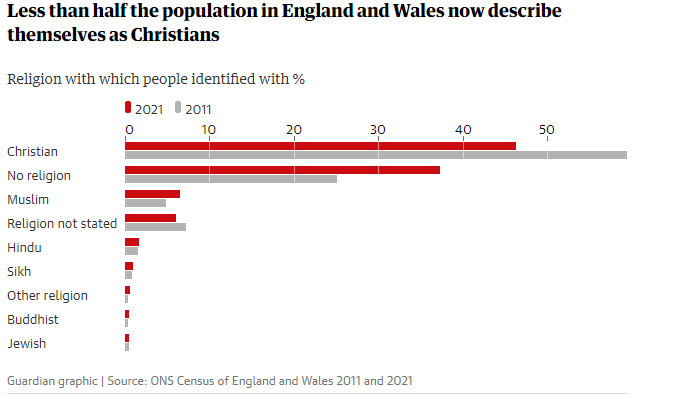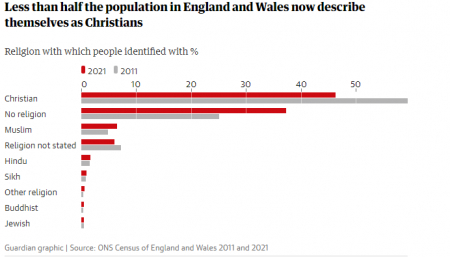 This has happened for the first time since 1801 when the United Kingdom carried out its first census, less than half of the population described themselves as Christian while those claiming to have no religion have swelled by millions in number.
Researchers suggest that many factors can cause a decline in a religious climate when it comes to Christianity. "There are many factors that may be contributing to the changing religious composition of England and Wales, such as differing patterns of ageing, fertility, mortality and migration", said the researchers in a report. " Changes may also be caused by differences in the way individuals chose to answer the religious questions between census.", they further explained.
Read More: Sikhs launch campaign in Melbourne with "Haryana Bany ga Khalistan" theme
Archbishop of York Stephen Cottrell said it was "no surprise" that England experienced a decline in followers of Christianity, but he emphasized that despite facing the cost of living crisis and war in Europe spiritual sustenance is still needed.
Religious activists of Christianity emphasized the need to take measures to promote religious education by making it available to the common public as the chief executive of the religious schools and established church in England Andrew Copson Said, "This census result should be a wake-up call which prompts fresh considerations of the role of religion in society."
However, this data was just from Great Britain. Data from Scotland and Northern Ireland was released separately.