Edhi Foundation Pakistan
Pakistan is one of the world's most charitable countries, contributing 1% of its GDP to charitable donations.
Among the many non-profit organizations involved in charitable work in Pakistan today, the Abdul Sattar Edhi Foundation is by far the most well-known welfare trust.
Overview of Edhi Foundation
Edhi Foundation operates throughout the country, providing the best facilities and social services. It is dedicated to fighting for human rights regardless of class, race, or religion. Its overarching mission is to serve humanity, which it considers to be the "supreme religion."
Volunteers help run the foundation by working in maternity homes, Edhi homes, and ambulance operations. In addition, the organization actively participates in global events by assisting refugees and those affected by civil wars and natural disasters. They also provide food and medical equipment to those in need.
Who was Abdul Sattar Edhi
Abdul Sattar Edhi, one of the greatest philanthropists in history, founded the Edhi Foundation in 1951 as a small dispensary in Mithadar, Karachi, where he distributed medicines.
Edhi's mother was diagnosed with a mental illness and paralyzed when he was 11 years old. He devoted himself to meeting all of her needs, including cleaning, bathing, changing clothes, and feeding. His mother's health issues inspired him to dedicate his life to serving humanity.
He founded the first Edhi Foundation welfare centre in 1957. Until his death in 2016, he was the only director of the foundation. His wife, Bilqees Edhi, managed a maternity home (part of the Edhi Foundation) until her death in 2022.
Faisal Edhi, his son, now manages and oversees the foundation, which is still the most well-known name in Pakistan's charitable sector, carrying on his father's legacy.
Read More: What do you know about Akhuwat Foundation Pakistan? – About Pakistan
Who was Bilquees Bano Edhi
Bilquis Bano Edhi, a trained nurse and one of Pakistan's most prominent philanthropists, was given the unofficial title of "Mother of Pakistan" and shared the Ramon Magsaysay Award for Public Service with her husband in 1986.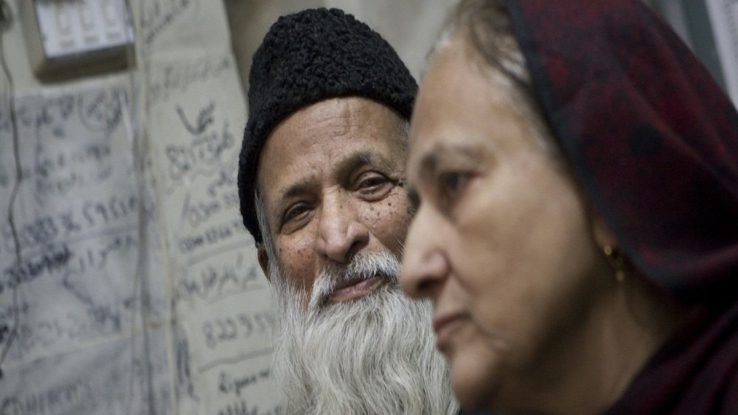 In Pakistan, her organization provides a variety of services, including an emergency department and hospitals in Karachi. Her and her husband's foundation has saved over 16,000 unwanted infants.
Services offered by Edhi Foundation
Ambulance
Edhi Foundation's first ambulance was a converted Hillman pickup truck, earning it the moniker "Poor Patient Ambulance."
After sixty years, the Edhi ambulance service has grown into the world's largest network of ambulances, with 1800 vehicles available throughout Pakistan. The foundation is even listed in the Guinness Book of World Records as having the largest ambulance fleet.
It also has an air ambulance service with two planes and one helicopter. It also has a marine ambulance service with 28 boats to help those affected by natural disasters.
Edhi Hospital Service
Edhi Foundation offers hospital services for unprivileged people, which include:
Free Consultancy Service
Laboratory Examinations
Diabetic Preparation Center
Patient Utility Centre Nursing Training Center Immunization Center
Edhi homes and orphanage centers
Edhi Foundation has constructed 18 homes in Pakistan (seven of which are in Karachi). 8500 abandoned and orphaned boys and girls, mentally challenged and physically disabled adults, as well as homeless and defenceless men and women, including victims of domestic abuse, have been housed in these facilities.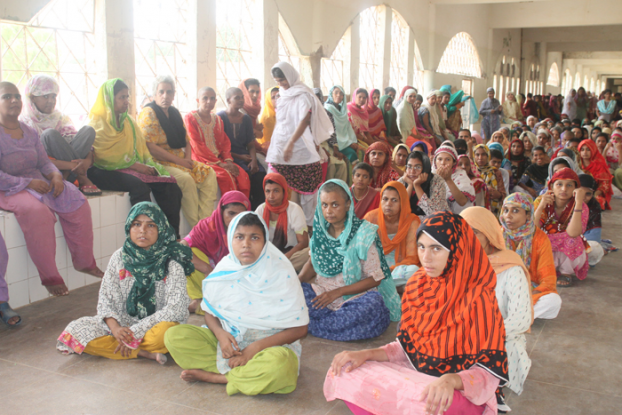 The cities in Pakistan, where Edhi homes have been established are as follows:
7 Karachi
Multan 1
Lahore 3
Islamabad 1
Peshawar 1
Quetta 1
Chitral 1
Langar Service (Free Kitchen)
For many years, the Edhi Foundation has organized Langers, or free meals, in various cities throughout Pakistan, primarily in Lahore, Karachi, and Rawalpindi. With the help of charitable donations collected from across the country, these kitchens feed thousands of people, the majority of whom are low-income.
The goal of this initiative is to reduce professional begging. In crowded, impoverished areas, daily meals are provided, and anyone who is unable to eat due to poverty, unemployment, or other social issues is welcome to take advantage of a free lunch once per day.
Instead of giving alms at traffic lights, people are expected to direct professional beggars seeking food to these soup kitchens.
Read More: Poor Services of Hospital Transportation in Pakistan – About Pakistan
Educational Services
Elementary, primary, and secondary education are available in a number of Karachi neighbourhoods, including Old Sabzi Mandi, Noor Shah Colony Mirphur Khaas, and Masjid Road Nawabshah. Students from rural Sindh have the opportunity to receive basic education at these Edhi houses.
Children Services
Baby cradles are set up in the majority of Edhi Centers to provide shelter for abandoned infants. These babies are then placed in the homes of deserving adoptive families. The confidentiality of all records is strictly maintained.
Rehabilitation centre
Along with other services, the Edhi Foundation intends to open rehabilitation centres for addicts in the near future
Graveyards
Edhi Foundation is the main network in Pakistan for the burial of deceased bodies or unclaimed coffins. Many cities in Pakistan, including Lahore and Rawalpindi, as well as those in the United States (including New York), have established cemeteries.
Edhi holds the world record for delivering the final required bath (ghusal) before shrouding the coffin himself and making all the necessary arrangements for their burial, with a count of over 58,000.
These services are also available to non-Muslims in accordance with their respective religious traditions. In addition to these services, large, air-conditioned morgues have been built in Karachi to hold unidentified bodies for a short time before performing funeral rituals, if necessary.
Missing Person Services
As a result of social issues, many children and people with mental disabilities are abandoned or separated from their families.To assist these individuals in returning to their homes, the Edhi Foundation makes local announcements, arranges press advertisements, or uses its own wireless network, state radio, and TV channels.
Edhi Animal Shelter Service
Edhi Homes' original mission was to assist the underprivileged or sick. Edhi Centers, on the other hand, began to shelter animals who had been cruelly abused or who were handicapped, lame, or severely injured. Stray dogs and lost animals with nowhere else to go are also included.In response to the increasing number of stray animals, the Edhi Foundation established a separate treatment facility, which has now grown into a small zoo. It is located on Karachi's Super Highway, and the animals are cared for by veterinarians and other volunteers.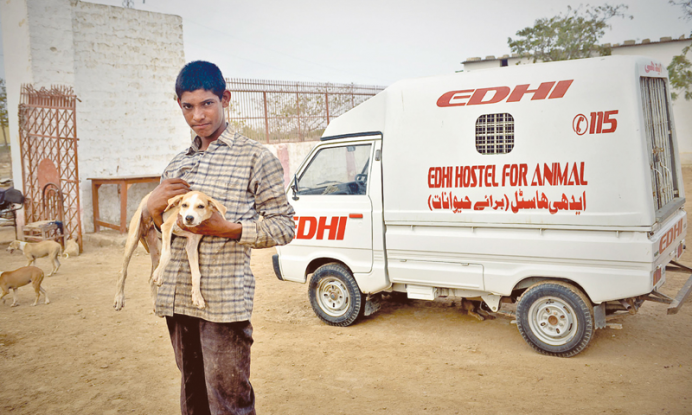 Refugee Assistant Service
When refugees from other countries were forced to seek refuge in Pakistan, the Edhi Foundation provided assistance. So far, assistance has been provided to refugees from the following countries:
Afghanistan\Kashmir
Bosnia
Iraq
Burma
Nepal\Bangladesh
Somalia
Uganda
Karachi, Pakistan's largest city, is home to numerous welfare trusts, but it is especially important in achieving Abdul Sattar Edhi's goal.
As previously stated, his organization's journey began in the city and progressed from there. As a result, it serves as the Edhi Foundation's headquarters.
Read More: Top Organizations Providing Free Medical Care in Pakistan – About Pakistan
Impact of Edhi's death on the foundation
Edhi had spent decades building a system that would keep the charity's services running smoothly. The Edhi Foundation's work continues with the same zeal and passion as it did before its founder died. "His work will continue," Bilquis Edhi, before her death, said confidently. "There has been no pause in our efforts." He appears to be directing us. "But now we have to be more active because our guide is gone," she added. Edhi's death initially had a minor impact on the foundation's donations, but generous contributions from people have restored the donations to their previous levels, she said.
"He'd say insaan bano, insaan banao," she recalled. The mantra — be human, serve humanity — lives on through Edhi's philanthropic work, which served millions of poor and underprivileged people. Because of his reverence and respect, when he was called to testify in murder trials, judges would send court staffers to Edhi to record his statement, Bilquis recalled.
Despite intense pressure, the late humanitarian avoided politics and politicians alike. "My husband used to say, 'If Pakistan's moulvi, leader, doctor, lawyer, and police became righteous, Pakistan would become a welfare state,'" Bilquis said.