Pakistan being the 5th most populous country in the south Asian region is ever growing population. It has an amalgamation of different ethnicities and culture. In order to tackle this growing population at an unprecedented rate, the people of Pakistan have resorted to constructing safe and secure housing schemes in vicinities of different big cities in Pakistan. This is due to the fact that, this ever-growing population is unable to reside in urban centers so they have shifted towards housing schemes and societies in almost every city of Pakistan be it Karachi, Islamabad, Quetta, Peshawar, Rawalpindi, and Lahore. With the rise in housing societies in Pakistan, there is also an increase in the presence of illegal and unregistered housing schemes in Pakistan.  
According to a report, there are at least 69% of all housing societies in Pakistan, which are actually not registered through proper development authorities. As per official data, there are almost 8,767 housing societies out of which almost 6,000 are not registered with concerned authorities. These 6,000 housing schemes are either illegal, incomplete or doesn't exist at all. Furthermore, property fraud is also on the rise and almost 4,000 fraud and corruption cases have been filed against 500 societies. The cases, accounts for an amount of almost RS.300 billion.  
Out of total 8,767 only 2,767 housing societies are properly registered through channel in the country. The list of all the illegal housing societies in Pakistan is as below: 
Read More: How to check property ownership in Pakistan online – About Pakistan
What is the difference between illegal and unauthorized societies? 
A construction that is done without proper permissions or a construction that is built against the predefined laws and norms is said to be an illegal construction. 
A construction that is not authorized by the concerned authorities is known as an unauthorized property.
In Pakistan there are a large number of unauthorized and illegal constructions and societies in many big cities. Some of them are discussed below: 
Illegal Housing Societies in Islamabad 
Private housing associations and their legitimacy are issues that have received a lot of attention in the popular media lately. The CDA estimates that there are almost 140 illegal housing societies in Islamabad alone. Authorities have published a list of 64 licensed companies to inform the public and discourage them from investing in illegal companies. The list of 64 "licensed" companies that have NOCs later turned out that only 22 companies were legal. This means that legal societies make up 10% of the total only.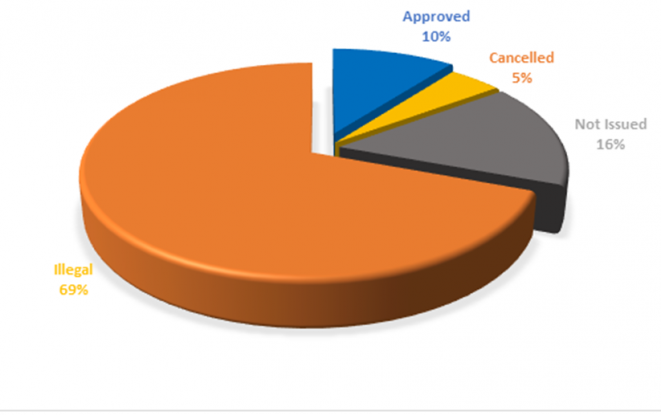 Islamabad has been divided into five zones. As per Zoning Clause 4 (1) (a) of ICT (Zoning) Regulation, 1992, following are the illegal societies in Islamabad in each Zone: 
Illegal Housing Societies in ZONE-I of Islamabad 
Abdullah Town, H-17 
Ammar Town, H-17 
Chinnar Town, H-17 
Gulshan-e-Taleem, H-15 
Jhangio Sayedain Homes, H-15 
Peral Orchard, H-17 
Qamar Garden, H-15 
Sher Zaman Garden, H-17 
Shifa International Housing Society, H-17 
Talha Farms, H-17 
Tayyab Garden H-15 
Zammar Valley, H-17 
Ahmad Town, D-14 
Awan Town, D-14 
Capital Hills Residencia, D-14 
Green Valley Phase-II, E-15 
Green Valley, D-14 
Margalla View Valley, D-14 
Paradise Valley, D-14 
Shehzad Town, E-15 
Read More: 8 Things to Consider before Investing in Real Estate – About Pakistan
Illegal Housing Societies in ZONE-2 of Islamabad 
Green City ,Sector D-17, E-17
Gulshan-Rehman Sector C-17,D-17
Islamabad Co-operative Farming Scheme, Sector D-17
Jamal Akber Colony, Tarnol phatak
Pakistan Overseas Housing Scheme, Sector F-16
Pakistan Town Phase-II G-16, F-16
Taj Seventeen West, Luxury Apartments & Shops
Illegal Housing Societies in ZONE-3 of Islamabad 
Al Rayan Society
Ali Town
Arcadia City
Aryan Enclave, Korang road, Banni Galla
Green Hills
Green Meadows (North Ridge) Housing Scheme
Major Makhdom Society
Illegal Housing Societies in ZONE-4 of Islamabad 
Abdullah Gardens, Kurri Road
Abu Bakar Town, Islamabad Expressway
Adil Farms, Simly Dam Road
Adil Valley, Simly Dam Road
Al-Huda Town, Lehtrar Road
Al-Nahal Housing Scheme, Simly Dam Road
Al-Rahman Villas, Kurri road, near Attock Petroleum
Al-Rehman City View, Lehtrar Road, near PINSTECH, Nailore
Al-Syed Avenue, Park Road
Ali Model Town
Ameer Khan Enclave, Mallah road, near Bahria Enclave-I
Arslan Town, Lehtrar Road, adjacent to Alhamra Hills
Asian Ranches Villas, located at Lehtrar, Simly Dam link road Zone-4(D), Islamabad
Babar Enclave, Mura Noor
Badar Farms, Simly Dam Road
Baylee Town, Kurri road, near Attock Petroleum
Bhara Kahu Enclave, Islamabad
Blue Enclave / Star Home, located at Lehtrar, Simly Dam link road, Zone-4(d), Islamabad
Burma Town, Lehtrar Road
Canterbury Enclave near Park Road
Capital Gardens, Lehtrar Road
City Town, Lehtrar Road
City Views near Nilore Islamabad
Commonors Sky Gardens (Flyover Valley)
Danyal Town, Hurno Thanda Pani, Lehtrar Road
Doctor's Enclave, Simly Dam Road
Dream Land City, Lehtrar Road Thanda Pani
Faisal Town, Islamabad Expressway
Gakkhar Town, Lehtrar Road
Ghouri Gardens, Lehtrar Road
Ghouri Town (All Phases in Zone-4), Islamabad Expressway
Government Officers Co-operative Farming Scheme
Green Avenue, Park Road
Green Avenue-II, Kuri Road
Green Fields, Simly Dam Road
Green Residencia. Lehtrar Road having head office opposite to Shaheen Town Phase-I, near Petrol Pump Jhang Syedaan
Green Valley (Phase-I & II), Simly Dam Road
Green Valley, Karor Road, Pehont, near Quran Complex, Zone-4(D), Islamabad sponsored by Raja Nasir & Ch. Amjad
Green View Villas, Lehtrar Road
Gulberg Town (Phase-I & II),Lehtrar Road
Gulf Residencia, Lehtrar Road
Hameed Town (Mouza Mohrian), Kuri Road
Hill View Houses, Simly Dam Road
Ideal Residencia, near Park Enclave, Kurri
Iqbal Town, Islamabad Expressway
Islamabad Farms, Simly Dam Road
Ittefaq Town, Old Kirpa Road, Lehtrar Road
J&K Farms, Islamabad Highway
Japan Valley, Kirpa Road, Lehtrar Road
Kiyani Town, Kirpa Road, Lehtrar Road
Kohsaar Enclave, Jandala road, near Naval Farms Simly Dam road
M/s Tricon Agro Farms, Simly Dam Road
Madina Enclave, Phase-I, located at Lehtrar, Simly Dam link road, Zone-4(d), Islamabad
Makkah Town, Hurno Thanda Pani, Lehtrar Road
Margalla Garden, Lehtrar Road
Marwa Town, Islamabad Highway
Media City-I, Kirpa Road, off Lehtrar Road
Mufti Mehmood Enclave, Lehtrar Road
Muslim Town, Simly Dam Road
Muzaffar Abad Town (Pind Bhegewal), Simly Dam Road
New University Town (near COMSATS) Park Road
OGDCL Town, near Chattar, Murree Road
Olive Wood Farms, Simly Dam Road
Paradise Point Housing Scheme, Lehtrar Road Islamabad
Park Lane Valley, Park Road
PTV Colony, Simly Dam Road
Qurtabal Town, Islamabad Highway
Rawal Enclave, Kurri Road
Rawal Enclave, Phase-III, Lethrar Road, Tumair, Islamabad
Royal Avenue, Park Road
Royal City/Royal Villas (near PINSTECH,Nilore), Lehtrar Road
Royal Homes Residencia, Lehtrar Road
Saif Garden, Kirpa Road, Lehtrar Road
Samaa Town, Kirpa Road, Lehtrar Road
Satti Town, Lehtrar Road
Shaheen Farms, Simly Dam Road
Simly Valley (Phase-I & II), Simly Dam Road
Spring Valley, Simly Dam Road
The Enclave, Bani Gala road
Usama Town, Hurno Thanda Pani, Nilore Islamabad
Yaar Muhammad, Bani Gala
Zahoor Town, Lehtrar Road
Illegal Housing Societies in ZONE-5 of Islamabad
Aiza Garden, kahuta road 
Aiza Garden, Mouza Lohi Bher Dakhli Jawa 
Aliya Town, Mouza Lohi Bher Dokhli Jawa 
Askaria Town, Japan Road 
Ayesha Town, Navy road, Rawat 
Azim Town, Kahuta Road 
Bankers City, Dharwala Road 
Canyon Views, Islamabad Highway 
Danyal Town, Hoan Dhamyal, Sihala 
Dhanyal Town, Kahuta Road 
DownTown Residencia, Islamabad Expressway 
Fatima Villa, GT Road 
Fiza Town, Hoan Dhamyal, Sihala 
Ghouri Town, Phases in Zone-5 Japan Road, Islamabad Highway 
Gulshan-e-Danish, GT Road 
Gulshan-e-Rabia, Japan Road 
Gulshan-e-Rehman , Japan Road 
Judicial Employees Housing Scheme, Kirpa Chirah Road 
National Police Foundation, PWD Road, Islamabad Highway 
New Model Town Humak / Roshan Enclave, Mouza Niazian 
Pak PWD, Islamabad Highway 
Parliamentarians Enclave, Japan Road 
Rasheed Town, Japan Road 
Rawat Enclave, main Rawat chowk 
Rawat Housing Scheme, G.T road, Rawat 
River View, Kahuta Road 
Sadozai Town, Kangota Sayedan 
Tele Town, Japan Road 
Television Media Town 
Read More: Best Business Ideas for Investment in Pakistan 2021 – About Pakistan
Illegal Housing Societies in Karachi 
Karachi – home to 15 million people with the best opportunities for everything. From education to better housing projects. But in Karachi a lot of housing schemes are either illegal or unregistered. However, the Sindh Buildings Authority (SBCA) has declared many properties illegal in Karachi to save people from scams and property frauds. What one can do on his behalf is to buy a property after being well informed and check all real estate news for updated properties as it saves one from frauds.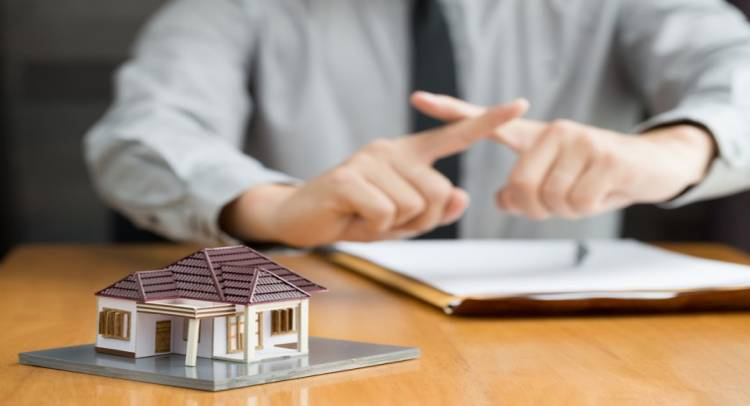 The SBCA has released a list of illegal Properties in 2022 that is illustrated as follows:
Ablagh-e-Aama Cooperative Housing Society
AGS Employees Cooperative Housing Society
Ahsanabad Cooperative Housing Society
Allahabad CHS
APP Employees CHS
CP and Berar CHS
Evacuee Trust Property Employees CHS
Firdous CHS
Gulistan-e-Zarrin CHS
Gulshan-e-Jiwan CHS
Muslamanan-e-Punjab CHS
Pakistan Aircrew CHS
Pakistan Broadcasting Corporation CHS
Pakistan Council of Scientific CHS
PIA Employees CHS
PIDC Employees Multipurpose CHS
Quetta Town CHS
Qureshi Cooperative Housing Society
Al-Rizwan Cooperative Housing Society
Rub Razi CHS
Saadabad CHS
Shah Wilayat CHS
Sindh Provincial Employees CHS
Sultanabad CHS
Television Employees CHS
Al-Falah Cooperative Housing Society (Malir Halt)
The Alfalah Cooperative Housing Society
Al Madina CHS, Al Manzar CHS
Al-Ahmed CHS
Al-Ghaffar Nagori CHS
Atiba CHS (Bostan Heights)
Bagh-e-Yousuf CHS
Barlas Moon City CHS
Bhopal Homes CHS
Burhani Garden CHS
Burhani Town CHS
Chapal Cooperative Housing Society
Chapal Luxury Villas-I, II and III CHS
The General Construction Cooperative Housing Society
Gulshan-e-Bilal CHS
Gulshan-e-Quddus (Al Azim) CHS
Gulshan-e-Surjani CHS
Gulshan-e-Taufeeq CHS
Humair Town CHS
Jamiyat Punjabi Suadagaran CHS
Javedan (Naya Nazimabad) CHS
Karim Town (Gulshan-e-Ellahi) CHS
Khayaban-e-Muhammad CHS
KN Gohar Green City CHS
Marina Garden CHS
Merry Land (Garden City) CHS
Mnasmr (Heaven Pride) CHS
Modern Developers CHS
Mominabad Phase-II CHS
Pakistan Steel (Gulshan-e-Hadeed) CHS
Pearl Villas CHS
PS City Phase I&II CHS
Rafi Pride-II CHS
Ruknuddin Khan CHS
Safari Associates CHS
Saima Green Valley CHS
Saudabad Colony Trust CHS
Shahmir Residency CHS
Gulshan-e-Shiraz CHS
Sherwani Royal City CHS
The South Construction CHS
The Pak Construction Cooperative Housing Society
Illegal Housing Societies in Peshawar 
Abbas Colony 
Abdullah Colony 
Abu-Bakkar Sudais Colony 
Afridi Town 
Al-Hajj Garden 
Al-Hamra Town 
Al-Haram Green 
Al-Haram Model Town 
Ali Villas Extension 
Al-Khaleej Town 
Al-Madina Colony 
Al-Madina Colony 
Al-Massa Model Town 
Al-Moeez-II 
Amin Villas Phase-II 
Anas Colony 
Apna Ghar Block-B Gulbahar-6 
Arbab cottages 
Arbab Jamil Plotting 
Arbab Umar Garden 
Arbab Yaseen Town 
Arfah Town 
Arzo colony 
Asad Regi Enclave 
Asif Colony 
BA Gardens 
Baba Town 
Bacha Khan Town 
Basher Bagh 
Chamkanni Homes 
Chitral Vally 
City Oasis 
Cornche Enclave 
Dar-us-Salam Homes 
Doctors Colony 
Doctors Colony Naguman 
Doctors colony Northern by Pass 
Dr, Taj Muhammad Plotting-II 
Dr.Taj Muhammad Plotting 
Dr.Taj Muhammad Plotting 
Education Employees Foundation (EEF) 
executive lodges Arbab Sabaz Ali Khan Town 
Fahim Colony 
Faisal Colony 
Faisal Town 
Faizan Ahmad Town 
Kaniza Colony 
Farahan Colony (Extension) 
Fareed Colony 
Galaxy Housing Scheme 
Garden Villas 
Green cottages 
Green Homes 
Gul Residencia 
Gulistan Colony 
Gulshan Abad 
Gulshan-E-Mehmood Colony 
Gulshan-e-Peshawar 
Gulshan-i-Tarnab Housing Scheme 
Haji Abad Town 
Haji Gul Plots 
Haji Naeem Colony 
Haji Sahibzada Town 
Haji Sameen Plotting 
Haji Tariq Housing Scheme 
Hamad Colony 
Hamza colony 
Hamza Garden 
Hasham Babar town 
Hassan colony 
Ibrar colony 
Insaf property dealer ploting 
Jan Alam Darmangi Garden 
Ka Ka Khel Town 
Khalil Garden 
khan colony No.3 
Khazana Greens 
Khyber City 
Khyber Killi, Canal View 
Khyber Property Dealer Plotting 
Sudais Villas 
Khyber town 
M.Owais & Sajid Plotting 
Madina Colony 
Madina colony 
Madina Residencia Phase-II 
Madina Samar Bagh 
Malik Abad colony 
Malik Jan Abad 
Malik Liaquat Abad 
Malik Saad Colony 
Mehmood Khan Plotting 
Mian Abdul Wali Shah Colony No.1&2 
Mian Abdul Wali Shah Town 
Muhammad Colony 
Muhammad Wali Plotting 
Naeem town 
Nasir Khan Colony 
New Dir Colony 
New Musa Khel Property Plotting 
New Muslim City-3 
New Officers Housing Society 
New Qurtaba Model Town 
Nimra Town 
Nobhar City 
Northern City Peshawar 
Office Housing Society 
Officer Housing Scheme-II 
officers homes 
Old Qurtaba Model Town 
Omul Qura Garden 
Overseas Pakistani Foundation (OPF) 
Ozair Colony 
Pak Garden 
Palm City Garden 
Pasban Town 
Peer Asmatullah Plotting 
Peshawar City Residencia 
Peshawar Enclave 
Peshawar Garden, Al-Moeez Homes-III 
Peshawar Gateway Town 
Peshawar Model Colony 
Peshawar Smart City 
Professor Model Town-II 
Qazi Mustaqeem 
Rauf Abad Gate 1 to 5 
Rehman House 
Saeed Colony 
Saeed colony 
Safia Society 
Saif Town 
Rehman Colony 
Shah Colony 
Shah Jee homes 
Shah Orchard 
Shah Pur Homes 
Shahbaz Town 
Shahram Gardens 
Shami Road Garden 
Shams-ul-Qamar Colony 
Sherpao Colony 
Sufian Gardens (City Oasis Phase-II) 
Tasneem Garden 
Umar colony 
Umar khitab Colony 
Umar Zubair colony 
United Business Complex & Housing Society 
University Garden 
New City Homes 
Wajid Model Colony-II 
Warsak Green Farm Houses 
Zia Villas 
Illegal Housing Societies in Rawalpindi 
There are prevalent illegal housing societies in Pakistan. According to the data recently released by Rawalpindi Development Authority (RDA), over 300 illegal societies and fake schemes were found. The list of these illegal housing schemes are present on RDA website that will help people to stay away from property frauds. The list of these housing schemes and societies is given below: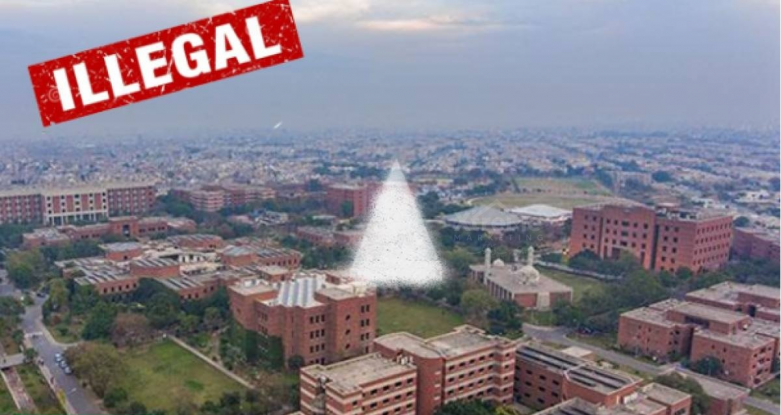 Safari Green Homes         
Kashmir Heaven Valley   
Chitral Town       
Gulshan-e-Bahar               
Rawal Enclave     
Rawal Farm House            
Pak Kashmir Sarhad Valley            
Farzand-e-Iqal Scheme   
Al-Ameer City     
The Regent Farm House Kalyam Mughal 
International City              
Green Farm House 
Qurtaba City        
Cape Town           
Model Residencia             
KRL Cooperative Housing society                
AGP Pakistan (Gulf City)  
Khanyal Homes (MIVIDIA)  
Angro Farm Hoses            
Ruden Enclave    
Sub-Division (Murtaza Qadir / Raja Faisal) 
Pak Sar Zameen Town     
Al-Rehman Colony 
Rose Valley          
Al-Makkah City   
Lake Garden       
Scheme Raja Jahangir, Nisar, Malik Akram              
MM Villas (Sub-Division)                
Hobby Town 
Gandhara City (Revised & Extension) 
Avenue Housing Scheme (old name Airline Avenue)          
Silver City             
City Model Town               
Blue Hills               
CPEC Resort Housing Scheme      
Smart Garden     
Tameer Garden Chahan 
Baber Homes / Gulshan-e- Baber               
Gulberg Town     
Jabbar City           
Jublee Town        
Kings Town          
OGDC Town         
Raja Qasim (Land Sub Division)    
Pakistan Atomic Energy Employees Cooperative Housing Scheme Phase-II              
Hussain Resorts-I              
Federal Govt. Employees Cooperative Housing Scheme 
Marble Arch Enclave 
Airport Town 
Mustafa Residencia 
Global Avenue phase 1 
National Town 
Gulshan e Iqbal 
Lake Vista Residencia 
Gulf City 
Addan homes 
Rawal Enclave 
Green Homes 
Zaryab City 
Soni Builders 
Khayaban e Millat 
OGDC ECHS 
Radio Colony ECHS 
Gulshan e Ali 
Janjua Town I 
Janjua Town II 
Read More: Real estate investment mistakes you should avoid – About Pakistan
Illegal Housing Societies in Lahore 
A huge list of illegal and unapproved housing societies situated in Lahore Division is being published by Lahore Development Authority. These societies are being tagged as illegal because they have never got any approval from LDA so far. Although, some of the societies are under the process of approval but LDA has marked such housing societies as illegal or unauthorized till the time they're being approved. It has made it easier for investors and buyers to invest in property wisely. Lahore is divided into 2 zones by LDA and the list of all the illegal societies in both zones is given below.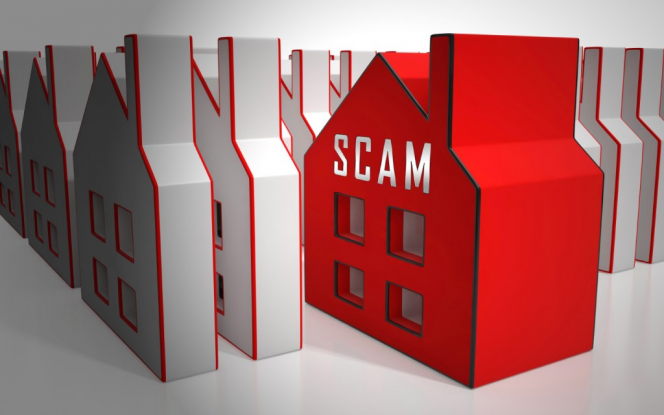 Lahore Zone 1: The area situated near Multan Road, Raiwind Road, GT Road, Canal Bank Road and adjacent areas are included in Lahore Zone 1.
The list of illegal housing schemes situated in Lahore Zone 1 are as follows:
Al-Rehmat Town 
Theme Park View Housing Scheme 
Kamboh Colony 
Bin Alam City 
Pak Town 
Hafiz Town 
Amir Town 
Alqadir Associates 
Military Accounts Employees Cooperative Housing Scheme 
Military Accounts Employees Cooperative Housing Scheme Phase 2 
P&D Dept. Employees Cooperative Housing Scheme Phase 2/Urban Canal City 
Gold Asia Orchards 
Hamdan City Housing Scheme 
Canal Residencia/Green Park 
Canal Residencia/Green City 
Rehmat Town 
Gulshan-e-Yaseen 
Gulshan-e-Noor 
Ali Alam Garden 
Rizwan Garden 
Khabar Garden 
Tufail Garden 
Garrison Garden Phase 3 
Nasheman Riaz 
Victorious Garden/Nigehban Housing Scheme 
Royal Enclave 
Khursheed Town 
Teachers Colony 
Ajwa City 
Golf View Residencia, Bahria Town 
Doctors Society 
Abad Gardens 
Paradise Valley Phase 3 
Z A Gardens 
Iqbal Park 
Bilal Town 
Gulberg Town 
Fahad Town 
Gulshan-e-Haider 
Sattar Town 
Noman Block 
Garrison Housing Scheme Land Subdivision 
Bilal Ganj, Wahga Town 
Malik Irfan Garden 
Ali Town 
Atta Town 
Ghouse Garden Phase 2 
Asad Town 
Rehman City 
Noor Garden 
Sky Land Housing Scheme 
Atta Town Phase 2 
Aqil Garden 
Heaven Villas 
Aqab Ur Rehman 
Mughal Homes Phase 2 
Alkhair Garden 
Makhdoom Homes 
Alhassan Garden 
Alhamd Villas 
Metro City 
Alraheem Industrial Block 
Madni Housing Scheme 
Barera Homes 
Azn Ragen 
New Jeevan Yadgar 
Madina Industry Zone 
Shalimar Industrial Scheme 
Manj Town 
Almadina Town 
Makkah Gardens 
Arain Gardens 
Aftab Homes 
School Lane Barkat Colony 
Barkat Colony Housing Scheme (Al-Qadir Associates Town) 
Alkabeer Town/Alkabeer Apartments 
Tayyeb Garden 
Mughal Homes Phase 1 
LDA Employees Cooperative Housing Society 
Peer Colony 
Sharif Town 
Park View Villas 
Qasim Garden Housing Scheme 
Read More: Why Bahria Town Investment is Profitable? – About Pakistan
Lahore Zone 2: Area situated near Ferozpur Road, Bedian Road, UBD Canal, Raiwind Road, Bagarian Road and adjacent areas are included in Lahore Zone 2.
The list of illegal housing schemes situated in Lahore Zone 2 are as follows:
Shaheen Garden
Madina Garden
Barkat Garden
AlQamar Homes
Engineers Park
Chughtai Garden
Golfers Line 1 Farm Housing Scheme
Golfers Line 2 Farm Houses Scheme
Alnoor Park
Alfajar City
Urban Homes
Hajveri Homes
Elite Villas
Pearl Garden
Mariam Park
Aman Park
Albashir Homes
Gher Qanooni Housing Scheme
Ghousia Colony
Zain Homes
Mustafa Town
Prime Homes
Mahnoor Villas
Johar Villas
Islam Park
Rehman Park
Green Cap Housing Scheme
Park Arab Housing Scheme Phase 2
Hajveri Garden
IBL Homes
Nazir Garden
Madina Town Land Subdivision
Green Park Housing Scheme
Waheed Brothers
Gillani Park Phase 1
Gillani Park Phase 2
Ideal Garden
Anwar Town
Garrison Housing Scheme
Garrison Homes Housing Scheme
Mian Aziz Garden
Gillani Homes
Eden Villas
Aljannat Homes
Taj Bagh Housing Scheme
Green Farms
Faisal Town Phase 2
Arshad Garden
Ferozpur City
Pak Arab Enclave
Babar Homes and Zaheer Villas
Khayaban-e-Amin Phase 1 (F,H,K,L,M,N,P,Q,R,S,T & Commercial Broadway)
Bahria Orchard Phase 3
Bahria Orchard Phase 4
Feroz Park
Hakim Town
Jeewa Park
Sharif Park 1 & 2
Tayyeb Town
Rana Park
Mairaj Homes
Almadina Garden
Lahore Gardens
City Garden Housing Scheme
Gulshan-e-Sir Syed Housing Scheme
Elite Town
Gulberg Park Housing Scheme
Subhan Gardens
Madina View Housing Scheme
Rana Garden
Akhtar Abad Housing Scheme
Faisal Town
Bilal Town
New Gulshan Lahore Housing Scheme
New Kashmir Park
Royal City
Mirza Estate
Roshan Town
Hammad Garden
Badar Colony
Abdullah Park
Indus Estate
Mian G Abdullah Land Subdivision
Saleem Garden Land Subdivision
Sabir Estate-2
Zeeshan Housing Scheme
Abdullah Park
Aziz Colony
Bahria Education and Medical City
Good Luck Garden Land Subdivision
Haidery Homes
Therefore, investors and buyers must decide wisely and do their proper research before purchasing any land to avoid any kind of property fraud, as some of the people spend their life savings on buying their homes.