Pakistan is a country with a population of over 20 million. Pakistan is a populated country with over eight of the most populated cities in the country have different tradition and cultures. Almost all cities of Pakistan are full of unique, cultural values and traditions. These cultural values and traditions are distinct from one another. However, the most famous cities of Pakistan are known to be Lahore, Karachi and Islamabad. Although these cities are considered as the top most cities still, they have different characteristics.  
Lahore: 
The city of Lahore has its historical roots with a large number of empires ruling it throughout the ages. Due to this fact, Lahore city has many historical and tourist places within the city. Some common places of attraction include the Walled city, Lahore Fort and Badshahi Mosque. All of these places attract a lot of tourists from all over the world to Lahore.  
Islamabad:
On the other hand, Islamabad is the capital of Pakistan, which is known for its peace and serene environment. The city has mesmerizing views and hillside which makes it unique and different from almost every other city of Pakistan. Some of the most famous landmarks in Islamabad are Faisal Mosque, Damne Koh and Shakar Parian. Furthermore, Islamabad has a lot of people from different ethnicities due to the fact that many government institutions are located in the city. Employees working in these government institutions usually live in government residences in Islamabad. The green environment of Islamabad, along with its breathtaking beauty makes it very unique from other cities of Pakistan.  
Karachi:
Another city, which was previously the capital of Pakistan is Karachi. Karachi has vast diversity and ethnicity making it one of the most diverse cities in Pakistan. Karachi is a large city with a coastline, which attracts a huge number of tourists from all over the world. In terms of living standards, Karachi has almost every kind of economic class living in it. From lower class, to big business Lords, when can get different and diverse people residing in Karachi. Some of the most attractive places of Karachi are Sea View, Do Dariya, Hawks Bay, and many more. Karachi has a huge variety of delicious cuisine as well.  
However, everyone has to pick a single city from Lahore, Karachi and Islamabad. It is indeed a tough task.  In order to ease you out, this article is going to help you and make it easier for you to decide which one suits you the best according to your personal preferences.  
Normally the main points which need consideration in order to gauge the living standards include the cost of living, educational institutions, the traffic and population, the weather conditions of a particular area and the availability of all the facilities and amenities of life. Therefore, we are going to look on all of them one by one and compare all these facilities in these three cities of Pakistan in order to go to the best place to live according to one's own likings.  
Cost of Living
While talking about economic conditions and consumer prices, Lahore and Islamabad are on par with each other, however, Lahore is slightly affordable and inexpensive, as compared to Islamabad. Everyone talks about affordable options. Lahore has a price difference of almost 2%, as compared to Islamabad. However, after including taxes, the prices in Lahore still remain around 7% lower than in Islamabad.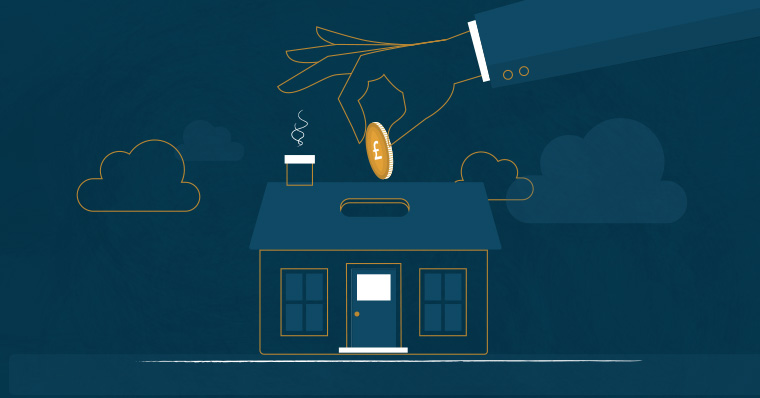 Read More: Housing Societies in Lahore – About Pakistan
If you talk about Karachi, it is even economical than Lahore, because Karachi is the economic hub of Pakistan, which makes it a lot economical than other cities of Pakistan. Because all the trade activities are done through Karachi. Therefore, this city is quite affordable than other cities of Pakistan. Being the economic hub of Pakistan almost all products are delivered from Karachi to other parts of the provinces, which basically adds to the cost of it making it a bit expensive.  
Now, we are going to compare prices in these three cities of Pakistan. For example, when compared to Islamabad, the rent prices in Lahore are around 26% lower than in Islamabad. Therefore, Islamabad is very expensive in terms of residential expenses and rental prices.  
The rental prices in Karachi are even lower than in Lahore and Islamabad. There are different kinds of areas which provide different ranges of rent prices from the lowest echelons of society to the most expensive ones. Areas of Karachi, including North Nazimabad and the nearby areas have low rent prices, whereas, the Defence Housing Society and Bahia Town Karachi have high rental prices.  
Weather Conditions 
Islamabad is widely known for its pleasant and happening weather conditions. In order to enjoy Islamabad's weather conditions, citizens came from all over the Pakistan. However, Islamabad experiences a humid and clear summer lasting for almost 3 to 4 months. The average daily temperature usually calculates to be around 33°C in June and the hottest summer month experiences a high temperature of around 40°C, and as low as 23°C.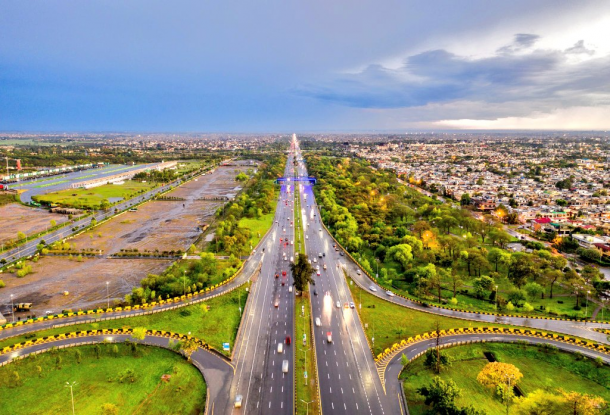 Given below is the data that shows average temperature during different seasons in a year in Islamabad.
| | | | | |
| --- | --- | --- | --- | --- |
| Seasons | Average High | Average Low | Max Low | Max High |
| Winter | 20°C | 05°C | -3.5°C (January 28, 1984) | 22°C (January) |
| Summer | 38°C | 24°C | 17°C (June, 2021) | 48°C (June, 19, 2011) |
During winters, the average daily high temperature is around 20°C. The coldest month of the season in Islamabad is usually January with a max low temperature of 3°C and an average high temperature of around 16°C.  
Lahore Weather: 
Lahore faces short by considerably, hot and humid summer season lasting for almost 4 to 5 months. The average daily high temperature during the hottest month (June) in Lahore is recorded to be above 40°C. The summers in Lahore are usually very hot and long. The winter season is normally shard, dry and cold lasting for only 2 1/2 months. The average temperature during the winter season is recorded around 22°C. The coldest month is January during which the average low temperature is around 7°C. In an average high temperature is around 18°C.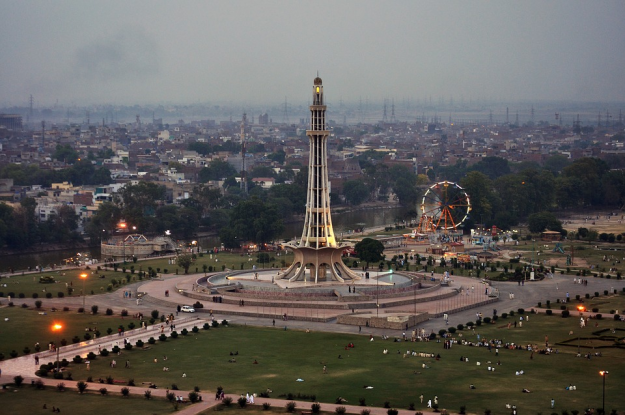 Karachi Weather: 
The weather of Karachi usually remains the same throughout the year with the oceanic breeze blowing from the ocean, making it moderate and humid. The winter season in Karachi is not as harsh as other cities of Pakistan, however, the summer season usually gets harder and hotter.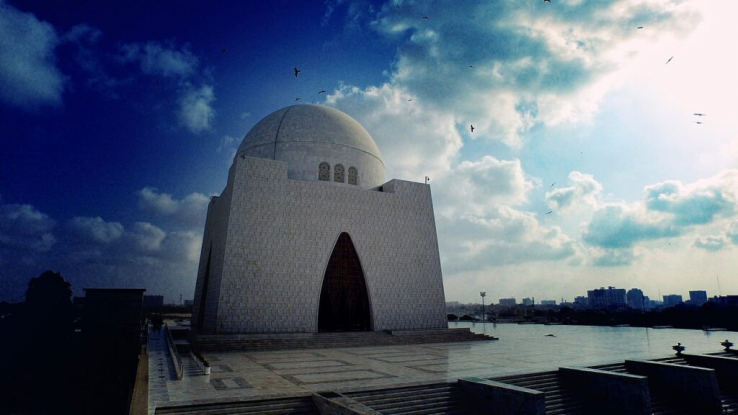 Read More: Karachi, the largest city of Pakistan and the twelfth-largest city in the world – About Pakistan
Given below is the data that shows average temperature during different seasons in a year in Karachi.
| | | | | |
| --- | --- | --- | --- | --- |
| Seasons | Average High | Average Low | Max Low | Max High |
| Winter | 28°C | 12°C | 3.3 °C (February, 11, 1950) | — |
| Summer | 40°C | 28°C | — | 47.8°C (May, 9, 1938) |
Educational Institutions 
While three of these cities have many famous and internationally recognized educational institutions. The literacy rate between all three cities varies a lot.  
Islamabad:
The literacy rate in the capital of Pakistan Islamabad is almost 87%. Almost all the children of school going age are attending school. Islamabad, on the other hand has many of the famous educational institutions of Pakistan, including Quaid-e-Azam university, NUST university, FAST university, Bahria University and many more.  
Lahore:
However, the literacy rate in Lahore is around 64%, which is quite lower than in Islamabad. Lahore, on the other hand, Lahore has many renowned universities such as LUMS, UET Punjab, National College of Arts, Lahore, School of Economics, etc. It has been home to Pakistan's most famous medical colleges, including University of Health and Sciences, King Edward Medical University and many more.  
Karachi: 
Sadly, the literacy rate of Karachi is not at par with these two cities of Pakistan, although Karachi consists some of the most famous educational institutions of Pakistan, including Agha Khan University, Institute of Business Administration (IBA) and many more.  
Therefore, each one of these cities of Pakistan has their own parts and privileges in respect of educational institutions, and each one of them attracts many students from different cities of Pakistan every year.  
Traffic and Population 
Traffic and Population in Lahore: 
Lahore has a lot of traffic having a fast paced lifestyle. Its population is ever increasing and people from different, less-developed cities move towards bigger cities in order to get opportunities. However, urbanization needs to ever increasing population and traffic. Therefore, in order to combat this, the cities have developed signal, free, corridors and flyovers have been built in many cities, such as the hall and construction due to urbanization has led to extensive and well-built road structures in Lahore. 
Traffic and Population in Islamabad: 
Islamabad, being the capital of Pakistan has this advantage, and it is quite opposite from Lahore and Karachi. It has welded streets and carpeted roads, making it one of the most beautiful capitals of the world. The city has beautiful and calm environment which offers tranquility and mesmerizing scenic views to its residence. The traffic situation in Islamabad is also not so bad, although there is a lot of urbanization in Islamabad, but still the capital development authority has managed to everything in a spectacular view, which makes Islamabad one of the best cities to live in Pakistan.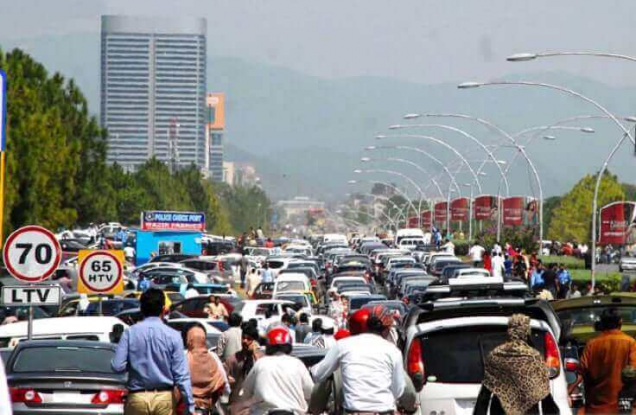 Read More: Illegal Housing Societies in Pakistan – About Pakistan
Traffic and Population in Karachi: 
Karachi is also a very populated city and the traffic conditions are also very bad. The roads in Karachi are always cloudy and during the rush-hour, there are traffic jams and people get stuck in traffic for many hours. Therefore, traffic and population condition in Karachi is not under control and the development of Karachi has to take certain steps in order to control the situation.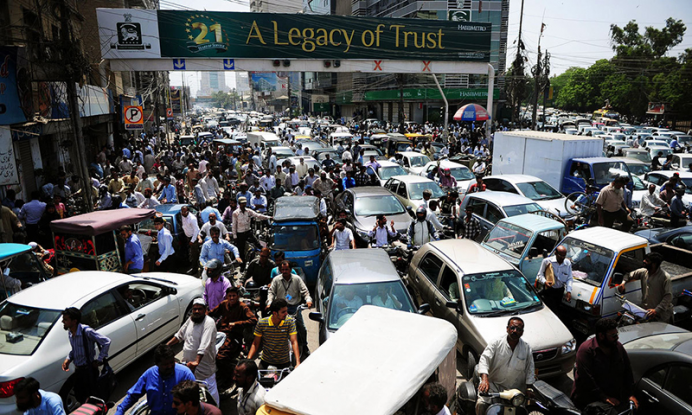 Islamabad:
Cleanliness and pollution are one of the major categories which can make a city the best place, or the worst place to live in. Islamabad is very clean and pollution is also under control as compared to Lahore and Karachi. Although the greenery in Islamabad is being cut off, but still it is clean and less polluted than other cities of Pakistan. Recently the previous government has started an initiative under the tsunami tree project, to grow as many as possible trees in the capital of Pakistan and revive its natural beauty. 
Karachi:
The pollution condition in Karachi and Lahore is abysmal. The sanitation and cleaning of this condition in Karachi are below par with many of the citizens of Karachi facing severe cleanliness issues. There is no proper disposal of waste products and the waste is usually lying openly on the roads causing pollution and spreading a lot of diseases. 
Lahore:
The story of Lahore is also not so good in this regard. However, it is still better than Karachi. There are some areas of Lahore which are neat and clean and the pollution is under control, but some areas have a lot of mismanagement in this regard and cleanliness is not taken care of. The air quality index of Lahore is also deteriorating day by day. Therefore, if one considers pollution to live in, Islamabad is far better than the other two cities of Pakistan. 
Read More: Why Bahria Town Investment is Profitable? – About Pakistan
Conclusion:
By looking at many aspects of these cities which are important for living standards, including basic amenities, facilities, cleanliness, education, population, pollution, traffic, weather, conditions, economic situation, et cetera. All the three major cities of Pakistan vary drastically.  However, all of the three cities have their own parks, and one must decide the best city to live in according to their own personal preferences and choices.