Senator Rehman Malik of Pakistan People s Party is being trolled all over the internet and especially on Twitter after he congratulated Joe Biden, the new U.S. President on the micro-blogging website by uploading George W Bush picture instead of Biden's.
The senior politician shared Bush's pic along with himself and wrote, "Joe Biden has worked with three democrats presidents and hopes they will support him to get the USA out of the self-created crises. Afghan issue, Syrian crises, and row with China must come to end. I hope the Democrats will support the oppressed Kashmiris to get out of curfew."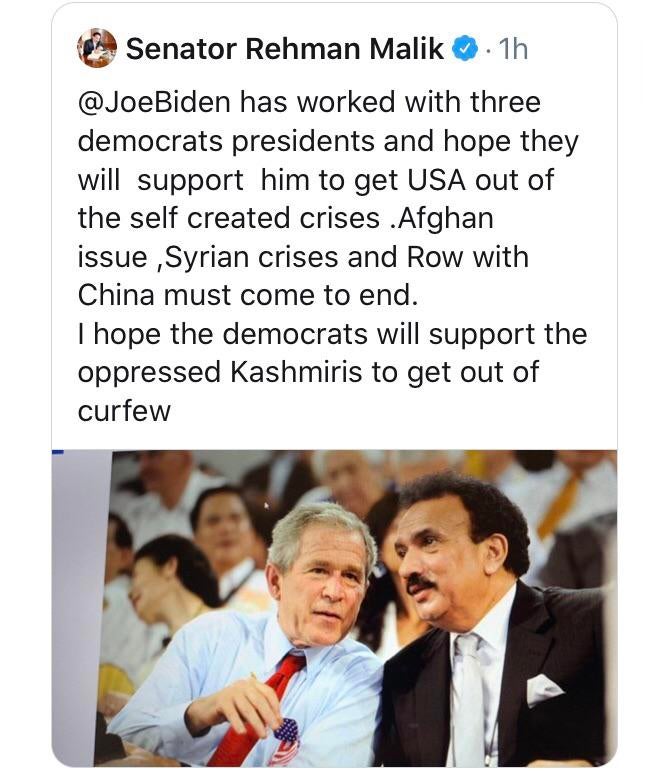 His this post went viral overnight and caught the netizen's attention.
Here's how Twitter reacted to Rehman Malik's Biden post: one of the persons posted on Twitter,
"I can't tell what's funnier, the fact that he is talking about Joe Biden but has a picture of George Bush, or that he took a picture of his laptop screen instead of saving the picture and uploading it properly. 99th percentile Whatsapp uncle behavior."
The other one said, "So many layers here. The fact that this is a picture of a picture. The fact that the original picture is on a laptop which is a device in and of itself that could be used to upload media on Twitter. The fact that is not even Joe Biden. The fact that is not even democrat."
"My man Rehman Malik making a subtle point that when it comes to foreign policy, both Republicans and Democrats are the same. Brilliant, sir."
"Powerful critique of centrist Democrats, exposing the ideological shallowness of the two-party system. Well done, Senator sb."
"People are making fun of him, but mistaking one old white guy for another is a power move."
and finally the Rehman Malik's Biden gaffe became
Rehman Malik with Elon Musk. pic.twitter.com/yyuMV4QZ1R

— Shumail (@Shumyl) November 11, 2020