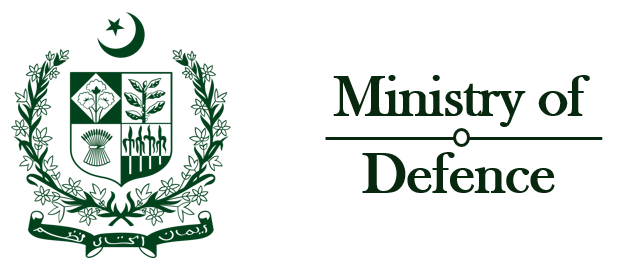 The Ministry of Defence is an executive ministry of the Government of Pakistan, tasked in defending Pakistan's national interests and values at home and abroad. It plays a major role in controlling the Pakistan government and the Pakistan Armed Forces and coordinates with a range of domestic, foreign and inter-governmental bodies.
The existence and functions of the ministry are statutorily defined in Part XII, Chapter II of the Constitution of Pakistan. The responsibilities for procurement, production and disposal of equipment were transferred in 2004 to the Ministry of Defence Production. The Ministry of Defence is one of the largest federal ministries of the Government of Pakistan in terms of budget as well as staff.
Vision Mission
To preserve and defend the national sovereignty and territorial integrity of the Islamic Republic of Pakistan and protect its national interests and assets through military means and other defense related capabilities.
What We Do
To formulate, co-ordinate and execute the Defence Policy of Pakistan and other defence-related policies in pursuit of its mission statement.
To administer the Armed Forces of Pakistan.
To provide-for and manage the national defence needs through Defence Budgeting.
To assist the Civil Administration in the maintenance of Public Order, combating the internal threats and battling the national disasters, and emergencies, if/when required and asked for.
To contribute towards the world peace and progress through the world-wide peace keeping and other operations
[ninja_tables id="1898″]
History
The Ministry of Defence is a successor of the Military Department created by the British East India Company in Calcutta in 1776. Its main function was to coordinate and record orders, relating to the Army, issued by various Departments of the Government of the East India Company. The Military Department initially functioned as a branch of the Public Department and maintained a list of Army personnel. Following Pakistan's independence in 1947, the Ministry of Defence was established at Karachi in August of that year, with Prime Minister Liaquat Ali Khan also holding the Minister of Defence, while Iskander Mirza served as Defence Secretary. British flag officers remained commanders-in-chief of the army, navy and air force in Pakistan until 1956. In December 1959, the federal capital shifted temporarily to Rawalpindi, while plans for Islamabad were drawn up by then-General Ayub Khan's military government.