Army
Chief of Army Staff (COAS)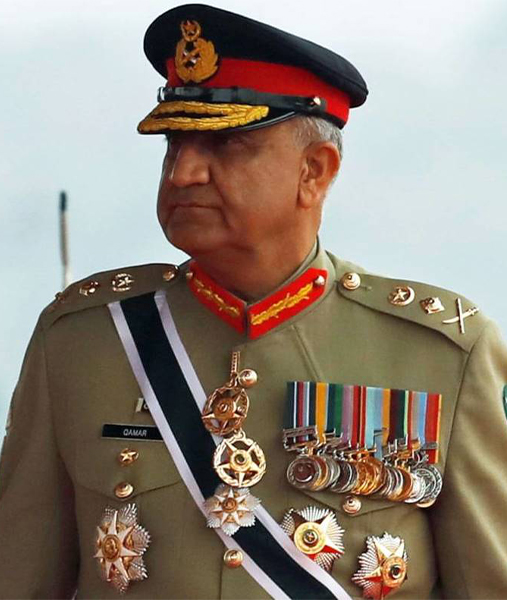 General Qamar Javed Bajwa, NI (M), HI (M)
General Qamar Javed Bajwa, NI(M), HI(M) the Chief of Army Staff (COAS) Pakistan Army since 29 November 2016.
General was commissioned in 1980 in the 16th Battalion of the Baloch Regiment (second generation in Pakistan Army). General is graduate of Canadian Forces Command and Staff College, Toronto, Naval Post Graduate University, Monterey (California) USA and National Defense University, Islamabad. Remained instructor at School of Infantry and Tactics Quetta, Command and Staff College Quetta and National Defense University Islamabad. Important staff appointments include, Brigade Major of an Infantry Brigade, Chief of Staff of a Corps. General has extensive command experience which include command of his parent unit, an Infantry Brigade, an Infantry Division and a Corps. At UN Peace Keeping Mission, he commanded a Pakistani Contingent at Congo. General also served as the Inspector General Training and Evaluation at General Headquarter Rawalpindi. He has been honored with the Hilal-i-Imtiaz (Military) and Nishan-e-Imtiaz (Military) during August 2011 and December 2016 respectively.
In line with National Action Plan, numerous counter terrorism operations including Radd-ul-Fassad and Khyber-4 have been launched under his able command to uproot terrorism. These operations have been very successful and terrorist incidents have drastically reduced in recent years. General is known as good sportsman who loves to play cricket and promotes sports activities.
List of Chief of Army Staff (COAS) of Pakistan since independence
| S/No | Name | In Office | Total Duration | Picture |
| --- | --- | --- | --- | --- |
| 1 | Tikka Khan | 3 March 1972 - 1st March 1976 | 3 years, 364 days | |
| 2 | Muhammad Zia-ul-Haq | 1 March 1976 -17 August 1988 | 12 years, 169 days | |
| 3 | Mirza Aslam Baig | 17 August 1988-16 August 1991 | 2 years, 364 days | |
| 4 | Asif Nawaz Janjua | 16 August 1991-8 January 1993 | 1 year, 145 days | |
| 5 | Abdul Waheed Kakar | 11 January 1993-12 January 1996 | 3 years, 1 day | |
| 6 | Jehangir Karamat | 12 January 1996-6 October 1998 | 2 years, 267 days | |
| 7 | Pervez Musharraf | 6 October 1998-28 November 2007 | 9 years, 53 Days | |
| 8 | Ashfaq Pervez Kayani | 29 November 2007-29 November 2013 | 6 years, 0 days | |
| 9 | Raheel Shareef | 29 November 2013- 29 November 2016 | 3 years, 0 days | |
| 10 | Qamar Javed Bajwa | 29 November 2016- | 4 years (till date) | |